Lemon Tart
by Editorial Staff
Recipe for making a tart stuffed with butter, lemon juice, lemon zest, eggs and sugar.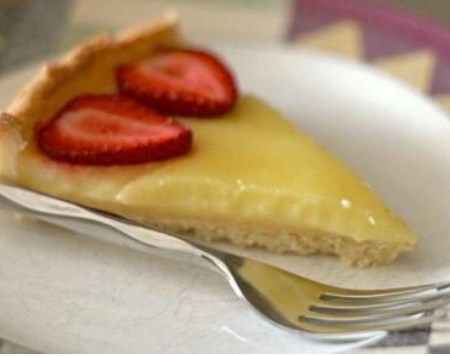 Cook: 30 min
Serving: 6-8
Ingredients
Baked tart crust with a diameter of 22 cm – 1 Piece
Large eggs – 3 pieces
Unsalted butter, room temperature – 4 Tbsp. spoons (15 g)
Lemon zest – 1 Tbsp. the spoon
Directions
In a stainless steel bowl, placed over a saucepan of boiling water, beat eggs, sugar and lemon juice. Cook, whisking (to prevent the mixture from curdling), until the mixture is pale and thick. The mixture should resemble hollandaise sauce or sour cream in consistency, the thermo should show a temperature of 71 degrees. It will take you about 10 minutes.
Remove mixture from heat and immediately strain through a fine strainer. Cut the butter into small pieces and add immediately to the warm mixture. Beat until the butter melts. Add lemon zest, cover the bowl with a lid or plastic wrap and let cool to room temperature. The plastic film prevents crusting on the surface of the cream. The lemon mixture will thicken as it cools.
Brush the baked tart crust with lemon cream. Garnish with whipped cream and fresh berries, if desired, cut into portions and serve.
Bon appetit!
Also Like
Comments for "Lemon Tart"