Liver Casserole with Bulgur
by Editorial Staff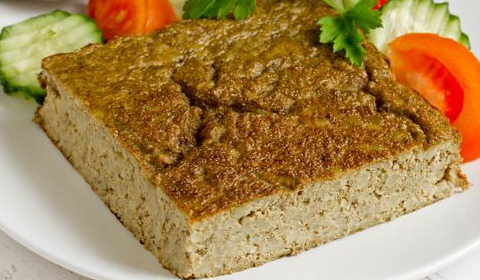 The liver casserole is a universal dish for the whole family, and also a great option for a children's menu! Today we will prepare a chicken liver casserole with bulgur. The pre-cooked bulgur added to the liver mass makes the casserole tender since the taste of the liver becomes much less pronounced. The casserole turns out to be hearty and nutritious.
Cook: 1 hour 10 minutes
Servings: 4
Ingredients
Chicken liver – 300 g
Bulgur – 160 g
Egg – 2 pcs.
Onions – 80 g (1 medium-sized)
Salt to taste
Ground black pepper – to taste (if necessary)
Water (boiling water) – 400 ml
To prepare the form (optional):
Butter – 1-2 tbsp
Bread crumbs – 1-2 tbsp
Directions
Prepare the required ingredients. Boil 400 ml of water in any convenient way.
Measure out the required amount of bulgur and send it to the saucepan.
Pour salted boiling water over bulgur and place on the stove, covering the saucepan with a lid.
Cook the bulgur over low heat until the water evaporates and the porridge is ready (about 25 minutes).
Peel, rinse, and chop the onion. Turn on the oven to heat up to 180 degrees.
Transfer the onion and rinsed chicken liver to the bowl of a blender or food processor with a knife attachment. Add eggs, salt, and black pepper (if children eat the casserole, do not add pepper).
Grind all ingredients until a smooth liver mass is obtained.
Transfer it to a bowl.
Put the whole bulgur in the liver mass (you can not wait for cooling)
Stir.
Prepare a baking dish by lining the bottom and sides with baking parchment. You can also grease the form with butter (1-2 tablespoons) and sprinkle with bread crumbs (1-2 tablespoons). Transfer the liver-bulgur mass into the mold.
Cook the liver casserole in an oven preheated to 180 degrees for about 30-35 minutes, until tender (be guided by the characteristics of your oven).
Remove the prepared casserole from the mold and cut it into portions.
Enjoy your meal!
Also Like
Comments for "Liver Casserole with Bulgur"