Mexican Shrimp with Rice
by Editorial Staff
To taste a hot Mexican dish, it is enough to shop at the nearest supermarket, and such a wonderful recipe for Mexican shrimp rice will help to cook it.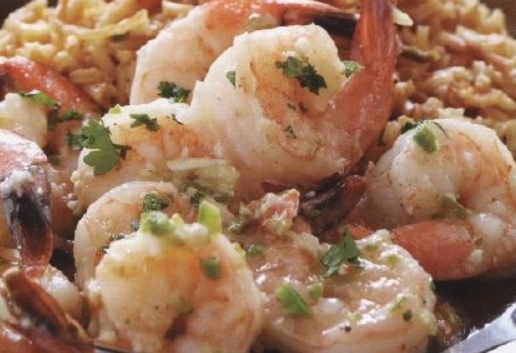 Servings: 6
Ingredients
Garlic wedges (peeled and cut into halves) – 16 pcs.
Garlic cloves (finely chopped) – 4 pcs.
Olive oil – 1/4 cup
Shrimps are very large (peeled of the shell) – 1 kg
Salt and black pepper to taste
Lemon zest – 1 1/2 teaspoon
Lemon juice – 3 tbsp
Unsalted butter – 2 tbsp
Chili pepper (jalapeno) (seeded and finely chopped) – 1 pc.
Fresh cilantro leaves (finely chopped) – 2 tbsp
For rice:
Fresh tomato (without skin, cut into four parts) – 1 pc.
Onions (peeled and cut into four parts) – 1 pc.
Chili pepper (jalapeno) – 2 pcs.
Long grain white rice – 1 cup
Garlic (finely chopped) – 2 pcs.
Chicken broth – 1 glass
Vegetable oil – 3 tbsp
Tomato paste – 1/2 tbsp
Salt – 3/4 teaspoon.
Fresh cilantro leaves (finely chopped) – 1/4 cup
Lime for serving (cut into wedges) – 1 pc.
Directions
Place the wire shelf in the middle position in the oven. Turn on the oven to preheat to 180 degrees. Chop the tomatoes and onions in a kitchen processor for 15 seconds, scraping off the flesh that has settled on the edges of the dish with a spatula. Transfer the tomato-onion mixture to a measuring container, you should get 1 glass. Remove seeds from chili peppers and cut 1.5 peppers into thin strips. Set aside.
Pour the rice into a sieve or a colander with fine holes and rinse well under running water (about 2 minutes). Then pour onto a clean waffle towel and dry well.
Heat an ovenproof dish over medium heat, add oil and heat for about 1 minute. Pour rice into a preheated pan and fry, stirring occasionally, until golden brown, about 4-6 minutes. Put the garlic and chopped peppers in a pan, fry, stirring occasionally, for about 30 seconds. Add tomato-onion mixture, broth, tomato paste and salt. Increase heat and bring to a boil. Cover the dish with a lid and place in a preheated oven. Bake until the liquid has completely evaporated, about 25-30 minutes, while stirring the rice once 10 minutes after putting the dish in the oven.
Turn off the oven. Add chopped cilantro and the remaining half of the chili to the cooked rice. Cover the rice and place in the oven, leave there until the shrimp is cooked.
In a small saucepan, heat 1/4 cup vegetable oil over medium heat. Put the halves of the garlic cloves in the heated oil. Reduce heat to low and fry garlic until soft, about 12-15 minutes. Remove the garlic from the saucepan using a slotted spoon, and leave the oil. Put the garlic on a board and knead with the flat side of a knife into a paste.
Rinse the peeled shrimps, put on a paper towel, dry, season with salt and pepper. Heat the garlic oil in a large skillet until simmering. Put the shrimp in the heated oil and fry, stirring occasionally, for about 3-5 minutes. Transfer shrimp to a plate and cover with foil.
Put a clean frying pan over low-medium heat, pour lemon juice into the pan and add the garlic paste, stir and set aside. Put the shrimp, chopped garlic, lemon zest, chili and cilantro into this frying pan, stir. Add salt and pepper to taste.
Serve rice with shrimp and lime wedges.
Also Like
Comments for "Mexican Shrimp with Rice"