Thai Rice with Shrimps in Pineapple
by Editorial Staff
If you consider yourself a fan of Asian cuisine, then I definitely recommend taking note of this simple, but very successful recipe. The amazing flavor combination will surely delight you.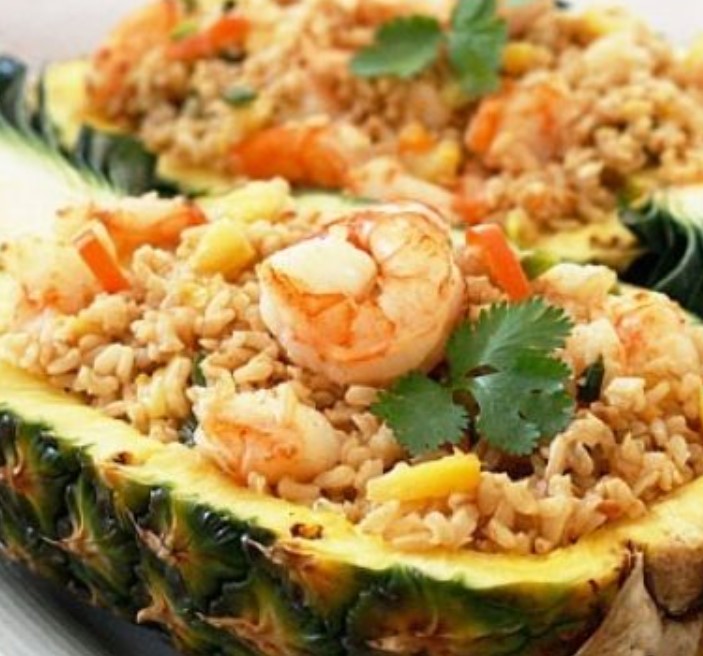 Cook: 30 mins
Servings: 4-6
Ingredients
Rice – 1.5 Cups (preferably brown)
Vegetable oil – 1 teaspoon
Shrimp – 450 Grams
Garlic – 2-4 Cloves
Chile – 1 Piece
Soy Sauce – 2-4 Teaspoons
Fish Sauce – 1 Teaspoon
Parsley – 1 Teaspoon
Green onion – To taste
Directions
First of all, place the rice in salted water. Gently cut the pineapple in half and cut the pulp out of it.
Here's a "plate" should be the result.
To keep the halves straight, trim them a little for stability.
Put the shrimps in a frying pan with heated oil, fry them for a few minutes.
Remove the shrimp and set aside. Place chopped green onions and chili in a skillet.
After a minute, add cooked rice and diced pineapple. Simmer for a couple of minutes, then put the shrimps in the pan, add soy and fish sauces, and add chopped garlic.

After another minute, the dish can be removed from the heat and served, after placing it in a pineapple and adding parsley if desired.
Bon Appetit!
Also Like
Comments for "Thai Rice with Shrimps in Pineapple"