Thai Style Rice in Pineapple
by Editorial Staff
Continuing the Thai theme of our recipes, we bring to your attention a recipe for traditional Thai cuisine – Thai style pineapple rice. An original, spectacular and tasty dish.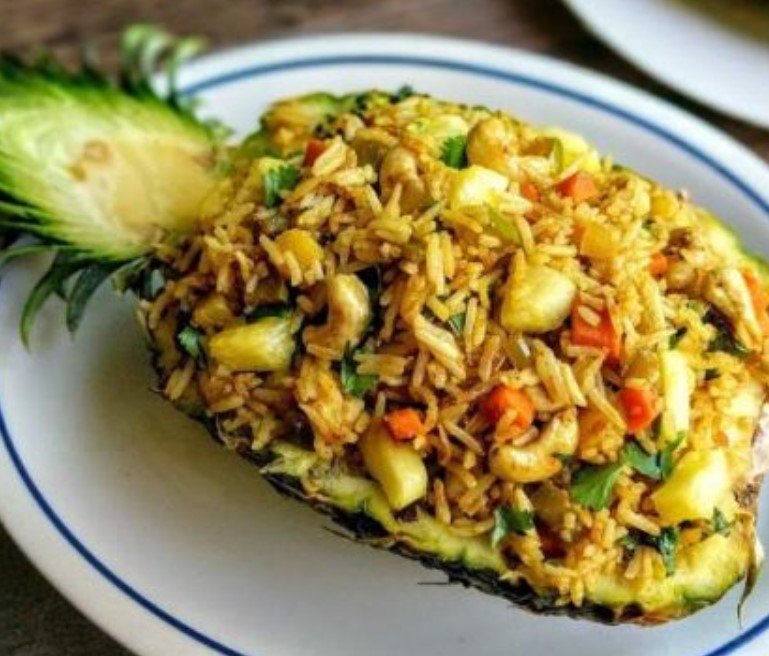 Cook: 35 mins
Servings: 3
Ingredients
Pineapple – 1 Piece
Onion – 1 Piece
Bulgarian pepper – 1 Piece
Carrots – 1 Piece
Roasted cashews – 8-10 pieces
Garlic – 1 Tbsp. the spoon
Green chili – 1 Piece
Soy sauce – 1 Tbsp. the spoon
Ground red pepper – 1/2 Teaspoon
Coriander – 1/2 Teaspoon
Cumin – 1/2 Teaspoon
Vegetable oil – 1
Salt, pepper – To taste
Directions
Melt butter in a hot skillet and sauté chopped onion until translucent. Then add chopped chili and garlic.
Place the bell peppers and carrots, cut into small cubes, on the onion. Simmer vegetables over high heat.
Add fresh pineapple slices and cook for a minute.
Now add the roasted cashews to the skillet and simmer for 1-2 minutes. Season vegetables with soy sauce, paprika, coriander, cumin, salt and pepper.

Add three cups of cooked rice and stir in the vegetables. Serve Thai rice in pineapple skins.
Bon appetit!
Also Like
Comments for "Thai Style Rice in Pineapple"