Avocado with Pineapple and Shrimp
by Editorial Staff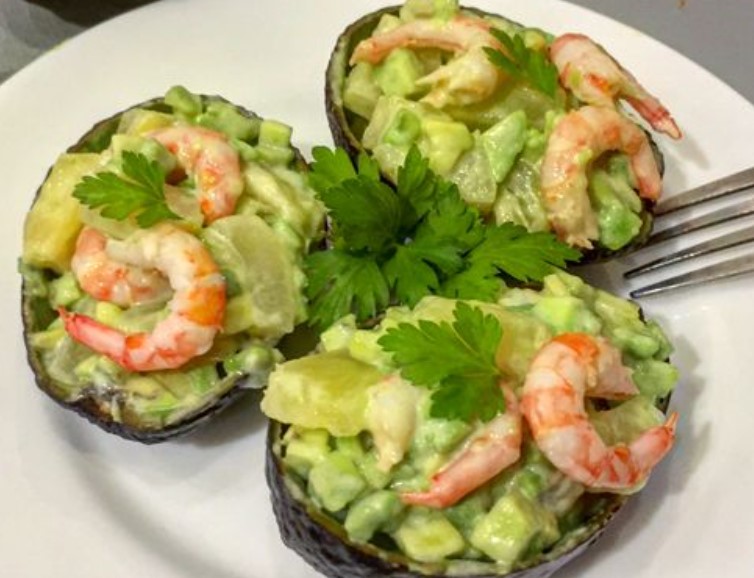 Gourmet avocado with pineapple and shrimp. An unusual "adult" taste is given to it by a cognac-based sauce. Serving spectacularly in avocado halves will keep this shrimp and pineapple salad from getting lost on the festive table.
Cook: 20 mins
Servings: 1
Ingredients
Small avocados – 1.5 pcs.
Boiled-frozen shrimps – 70 g
Canned pineapple pieces – 100 g
Mayonnaise – 30 g (to taste)
Cognac – 15 g (to taste)
Salt – 15 g (to taste)
Fresh parsley (for decoration) – 1 sprig
Directions
Prepare all required ingredients. My avocados are small, so I took 1.5 pieces. If the avocado is large, you will need one. My shrimp is unpeeled. You can take peeled shrimp (20 g). But if you are a big lover of seafood, take about 70 g of peeled shrimp, then their taste will be clearly felt in the salad. I took canned pineapple pieces. If you have pineapple rings, cut into small pieces.

Boil 0.5 liters of water in a saucepan, season with salt. Dip the shrimp in boiling salted water, wait until it boils again and remove from heat. Place the shrimp on a sieve and rinse with ice water. Allow the shrimp to cool completely.
Cut the avocado in half lengthwise, remove the pit. Take out the avocado pulp with a teaspoon, being careful not to damage the peel, and chop finely.
To prepare the sauce, mix mayonnaise with cognac in a two to one ratio.
Mix.
Peel the cooled shrimp.
In a salad bowl, combine avocado, shrimp and pineapple pulp.
Then add the sauce.
Mix everything.

Put the salad in the avocado halves.
Decorate with parsley leaves.
Bon Appetit!
Also Like
Comments for "Avocado with Pineapple and Shrimp"