Parmesan and Oregano Bread
by Editorial Staff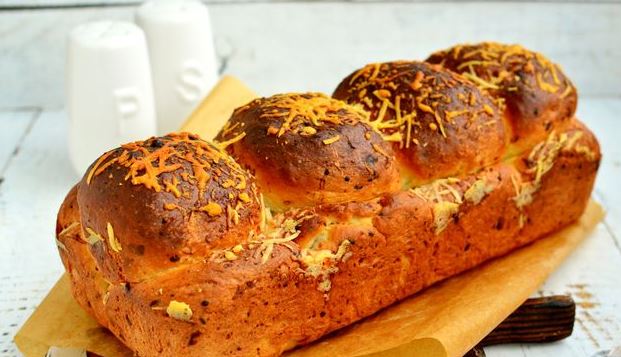 Airy, aromatic bread with bright-tasting Italian Parmesan cheese and dried oregano spice will send you (mentally) to the coast of sunny Italy. This bread is perfect for breakfast – make yourself a sandwich with butter and a piece of salted fish.
Cook: 2 hours 20 minutes
Ingredients
Milk (warm) – 150 ml
Butter (softened) – 50 g
Parmesan cheese – 50 g
Flour – 280 g + for working with dough
Pressed yeast – 15 g of dry yeast – 1 teaspoon
Brown sugar (or regular) – 1.5 tbsp
Dried oregano (ground) – 1 teaspoon
Salt – 0.5 teaspoon
Vegetable oil (for preparing the mold) – 1 tbsp
Directions
Crumble the yeast into a bowl, add salt and brown sugar (can be replaced with regular sugar). Pour in warm milk and stir the contents of the bowl until the yeast and sugar are completely dissolved.

Grate the Parmesan on a fine grater. Leave some cheese (1 tablespoon) for sprinkling on the bread. Combine sifted flour, oregano, and cheese in a deep bowl.
Set aside a teaspoon of butter to grease the bread. Pour the milk-yeast mixture into the dry ingredients, add softened butter. Stir the ingredients with a spoon and collect them into one lump.
Knead the dough on a flat table surface. The dough ball turns out to be elastic, does not stick to hands, and keeps its shape well. Cover the bowl with cling film and leave in a warm place for 1 hour. During this time, the dough will grow 2-3 times. Pound the dough, divide into 12 equal parts, and roll into balls.
Cover a baking dish with parchment and brush with vegetable oil. Place 8 balls of dough in two rows on the bottom of the mold.

Place the third row of dough balls on top longitudinally in the middle of the mold. Cover the dish with plastic wrap and leave for 20 minutes. Turn on the oven to heat up to 180 degrees.
After the dough has risen, brush the top of the bread with butter and sprinkle with the set parmesan. Bake the bread at 180 degrees for 35 minutes.
Then remove the hot roll from the mold and cool on the wire rack. Italian parmesan and oregano bread are ready to serve. They eat such bread with any dish, it is incredibly tasty by itself, without any additives.
There is no need to cut the bread – just break off the balls of delicious aromatic bread and enjoy a wonderful day!
Also Like
Comments for "Parmesan and Oregano Bread"