Pork Knuckle Roll
by Editorial Staff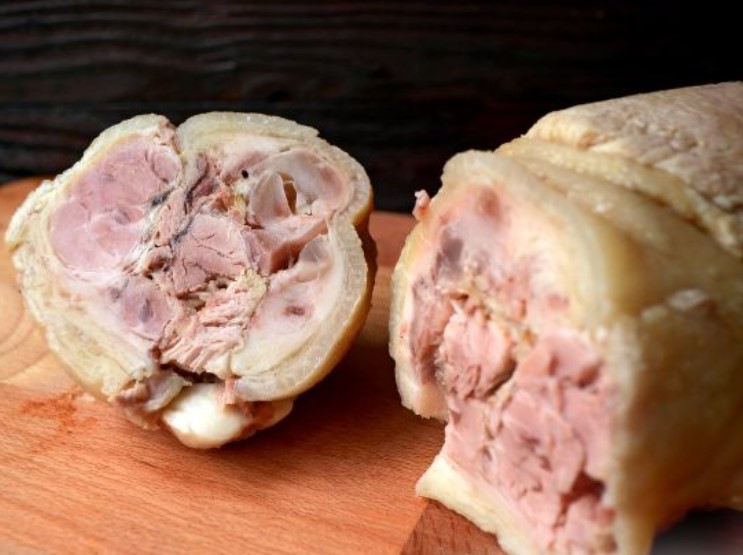 A very simple pork shank roll will be a worthy substitute for purchased sausages. Boiled meat with garlic tastes a bit like jellied meat, but it looks very appetizing.
Ingredients
Pork shank (drumstick) – 1 pc. (1 kg)
Carrots – 100 g (1 pc.)
Bulb onions – 100 g (1 pc.)
Garlic – 3 large cloves
Salt – 1 teaspoon
Ground black pepper – to taste
Directions
Prepare all ingredients.

Prepare the pork shank. Soak it for 1-2 hours in water, then wash it thoroughly under running water, scrape off the skin with a brush or kitchen net. Pour the shank with water and simmer over low heat for 2 hours. After boiling, be sure to remove the foam with a slotted spoon.
Half an hour before the end of cooking, add whole carrots and onions, previously peeled, to the pan. After boiling, cool the shank without removing it from the broth.
Remove the meat from the broth, cut the shank along the bone and carefully cut the bones.
Salt the surface of the meat well.
Brush the meat with finely grated garlic and sprinkle with freshly ground black pepper.
Gently roll the pork with garlic and wrap in several layers of foil. Place the pork shank roll in the refrigerator for 4-5 hours.

After this time, cut the pork shank roll in portions and serve.
Bon Appetit
Also Like
Comments for "Pork Knuckle Roll"