Quiche with Green Vegetables
by Editorial Staff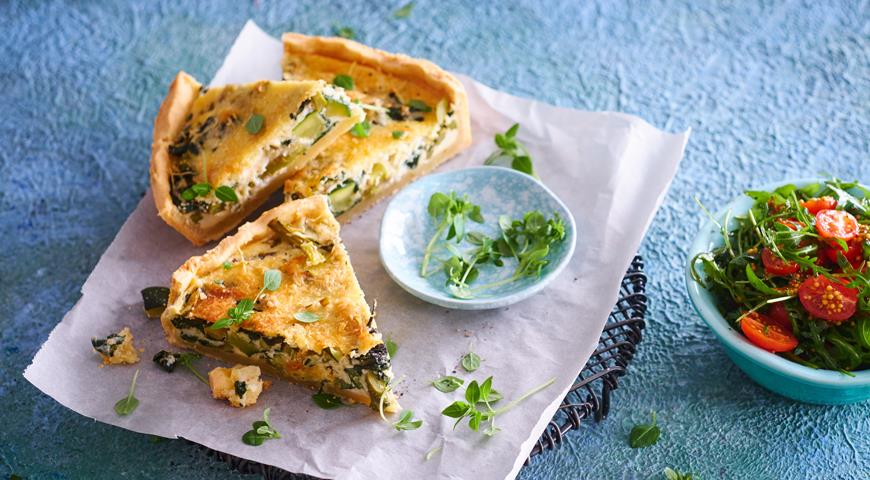 To the vegetable quiche, you can serve a salad of tomatoes with rucola, seasoned with olive oil, lemon juice, and mustard.
Cook: 1 hour
Servings: 5
Ingredients
1 baked minced dough tart base (see minced dough master class)
150 g spinach
200 g green asparagus
1 small zucchini
butter
40 g grated Parmesan, optional
To fill:
190 ml cream (30-38%)
2 large eggs С0 + 1 yolk
7 g cornstarch
nutmeg on the tip of a knife
salt freshly ground black pepper
Directions
Whisk the cream, eggs, yolk, starch, nutmeg, pepper, and salt until smooth.
In asparagus, break off the hard bottom of the stem, peel the stem, cut into 2 cm pieces (if using mini asparagus, you do not need to break off or peel anything, just cut). Cut the zucchini into 2 cm cubes. Remove the coarse stems from the spinach.
Sauté vegetables and spinach in butter over medium-high heat, 5 minutes. Place vegetables in a pie base.
Pour in the fill carefully and evenly. If using Parmesan, sprinkle it over the top of the pie. Place the quiche in the center of an oven preheated to 160 ° C and bake for 35–40 minutes.
Cool the quiche on the wire rack, carefully cut the edges of the dough flush with the filling with a sharp saw blade.
Also Like
Comments for "Quiche with Green Vegetables"