Quick Lasagna
by Editorial Staff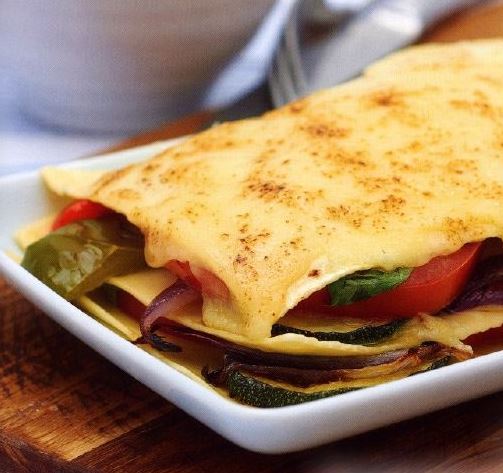 For this dish, the vegetables are baked in the oven and then alternated with lasagna sheets and baked again in the oven for a couple of minutes.
Cook: 20 minutes
Servings: 4
Ingredients
Lasagne sheets – 12 rectangles (10 cm long)
Bulgarian green pepper (cut into thin slices) – 1 pc.
Bulgarian red pepper (cut into thin slices) – 1 pc.
Zucchini (cut into circles) – 2 pcs.
Large tomatoes (cut in circles) – 2 pcs.
Cheddar or mozzarella cheese (shredded) – 1 cup
Red onion (cut into thin slices) -1 pc.
Extra virgin olive oil – 2 tbsp
Olive oil for greasing the mold
Basil, fresh leaves – 1 handful
Salt to taste
Ground black pepper – to taste
Lettuce leaves for serving (optional)
Directions
Switch on the oven with grill function for preheating.
Put slices of red onion, bell pepper, and zucchini on a baking sheet, sprinkle with salt and pepper, sprinkle with olive oil, and place in a preheated oven for 6-8 minutes, stirring vegetables once.
Meanwhile, boil lasagna sheets in salted water until tender, according to the instructions on the package. Drain.
Place 4 sheets of lasagna on an oiled baking sheet. Put half of the baked vegetables on them, top with basil leaves and tomato slices, cover with four sheets of lasagna. Top with remaining baked vegetables and cover with the remaining 4 sheets of lasagna.
Sprinkle the top sheets of the lasagna with cheese and place the baking sheet under the grill for 2 minutes, until the cheese is melted.
Serve lasagna on platters with lettuce (optional).
Also Like
Comments for "Quick Lasagna"