Quinoa Salad with Vegetables
by Editorial Staff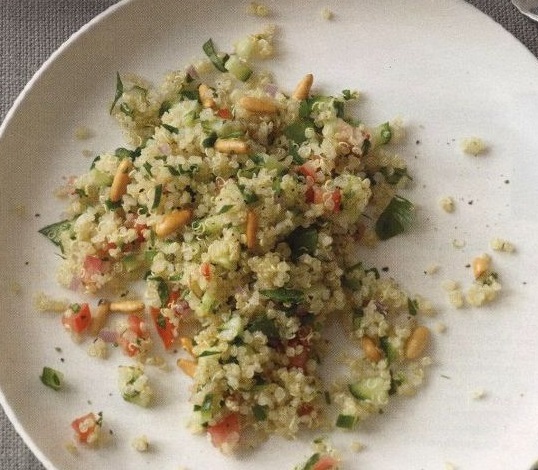 Quinoa is a grain that surpasses all other grains in protein content. Quinoa can be used to make many delicious and interesting dishes. Grits are prepared in the same way as rice. And it tastes like unprocessed rice. The plant is also called "rice quinoa". I suggest quinoa salad with vegetables and nuts.
Ingredients
Quinoa (quinoa, rice quinoa) – 1 1/2 cups
Pine nuts – 1/2 cup
Large cucumber (peeled and finely chopped) – 1 pc. (2 1/2 cups)
Fleshy tomato (seeded and finely chopped) – 3/4 cup
Red onion (finely chopped) – 1/2 cup
Fresh parsley (finely chopped) – 1/2 cup
Olive oil – 1/4 cup
Fresh lemon juice – 3 tbsp
Lemon zest – 2 teaspoon
Salt and black pepper (optional) – to taste
Directions
In a large saucepan, bring 2 liters of water to a boil. Pour the quinoa into boiling water, close the pan with a lid and cook the cereals over medium-low heat until soft, 12-14 minutes.
Turn on the oven to preheat to 200 degrees. Pour the pine nuts on a baking sheet and fry, stirring occasionally, for 3-4 minutes. Cool toasted nuts and pour into a serving plate.
Drain the groats and rinse under cold water. Drain again and pour into a plate with nuts. Add chopped cucumber, tomato, zest, onion and parsley to a plate. Season the quinoa salad with butter and lemon juice. Season with salt and pepper to taste, mix well and serve the quinoa salad on the table.
Also Like
Comments for "Quinoa Salad with Vegetables"