Raw Beetroot, Carrot and Cabbage Salad with Tangerines
by Editorial Staff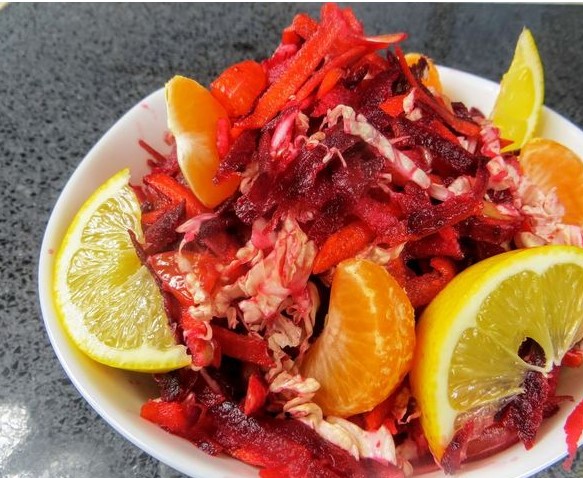 How to lose weight quickly after the holidays? The salad you must eat every day! Wonderful salad recipe! If during the week there is such a vegetable salad with tangerines for dinner, then you can get rid of extra grams and even kilograms. And it's also very tasty!
Ingredients
Beets (small) – 2 pcs. (200 g)
Carrots – 1 pc. (200 g)
Peking cabbage or white cabbage – 200 g
Apple – 1/2 pc.
Mandarins – 1-2 pcs.
Lemon (juice) – 1/2 pc.
Vegetable oil – 2 tablespoon.
Directions
Most often I use white cabbage for this salad, but today I have a Peking (also great).
All vegetables and fruits are raw.
Peel and wash the beets and carrots.

In a convenient large cup on a coarse grater, rub the beets, carrots, and apples.
Finely chop the cabbage.

We send cabbage to a common cup.
Peel the tangerine, divide it into slices, and cut it across into small triangular pieces. Add chopped mandarin slices, juice of half a lemon (adjust to your taste), and vegetable oil to the salad.

Mix well – and the salad is ready!
If desired, the salad can be decorated with lemon and tangerine slices.
Bright, juicy, tasty, and easy to cook!
Also Like
Comments for "Raw Beetroot, Carrot and Cabbage Salad with Tangerines"