"Red" Buckwheat
by Editorial Staff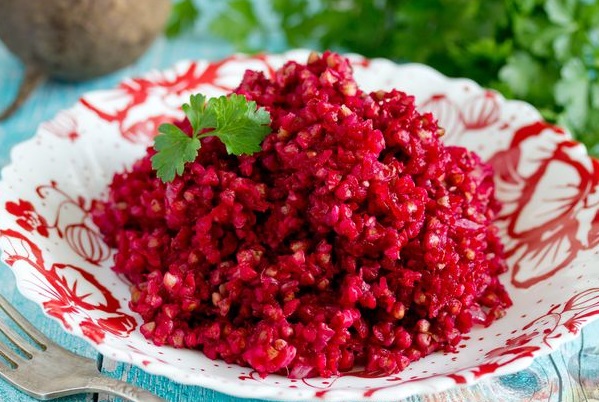 Unusual red buckwheat – a healthy, bright, and vitamin-rich dish made from buckwheat groats with beets – will become not only an excellent independent dish during fasting, but also diversify your daily menu as a side dish.
Ingredients
Buckwheat – 125 g
Beets (boiled) – 1 pc.
Bulb onions – 1 pc.
Garlic – 1 clove
Sunflower oil – 2.5 tbsp
Lemon juice – 0.5 tbsp
Salt to taste
Water – 250 ml
Directions
Prepare the required ingredients. Boil the beets in advance.

Beets can be quickly cooked in the microwave. To do this, peel the beets, place them in a plastic bag and cook in the microwave at maximum power for 5-10 minutes, depending on the size of the tuber.
Pour the buckwheat into a dry frying pan and dry, stirring occasionally, for 5 minutes.
Then the buckwheat needs to be boiled. In the usual way: pour the dried cereal with hot water in a ratio of 1: 2, respectively, add salt, bring to a boil and cook buckwheat over low heat under a lid for about 20 minutes until the water evaporates.
To cook buckwheat in a multicooker, pour the cereal into the multicooker bowl, pour in 0.5 tbsp sunflower oil, hot boiled water, add salt.
Boil buckwheat in a multicooker in the "Groats" mode or another similar mode (depending on the multicooker model, this can be the "Buckwheat", "Porridge" mode) for 20 minutes or until the water evaporates and the buckwheat is completely ready.
While the buckwheat is boiling, peel the onion and garlic. Heat the remaining sunflower oil in a skillet, fry the onion, cut into small cubes until golden brown, then add the chopped garlic and fry everything together for another minute.
Peel the boiled beets and grate them on a fine grater.
Drizzle with lemon juice, stir.
Transfer the finished buckwheat porridge to a saucepan, add beets and fried onions, and garlic.

Stir the buckwheat porridge with the beets.
Enjoy your meal!
Also Like
Comments for ""Red" Buckwheat"