Rice Noodles with Zucchini Sauce
by Editorial Staff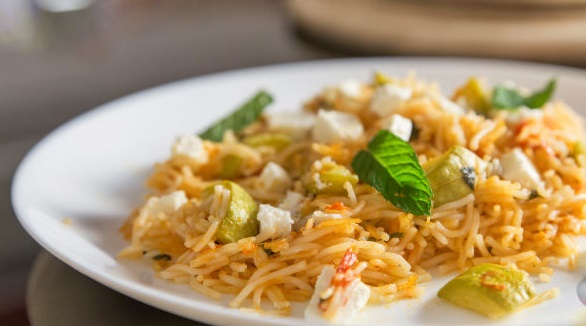 Recipe for making rice noodles with vegetables and fresh mint. The dish turns out to be non-trivial and very tasty.
Ingredients
Rice noodles – 200 g
Young zucchini – 600 g
Tomatoes – 500 g
Garlic – 3 cloves
Fresh mint – to taste
Feta cheese to taste
Tomato sauce (optional) – 1 tbsp
Fish sauce – 1 tbsp
Extra virgin olive oil – 2 tbsp
Freshly ground pepper – to taste
Salt to taste
Directions
Pour boiling water over the rice noodles (2 l).
Cut the courgettes into small pieces.

Cut the tomatoes crosswise and put them in boiling water for a minute.
Peel the tomatoes, remove seeds from them.
Heat olive oil in a skillet. Squeeze a few cloves of garlic into the oil.
Place the sliced ​​zucchini in the pan. Add salt. Fry the zucchini with garlic, stirring occasionally.
Add tomatoes. Cook without a lid, stirring frequently.
Add some tomato sauce. Simmer for 10 minutes, stirring occasionally, over low heat.
Finely chop the mint leaves.
Add chopped mint leaves 1 minute before the zucchini is ready.
Throw the rice noodles in a colander and mix with the zucchini.
Add fish sauce and cover the pan.
Cut the feta cheese into small cubes.

When serving, sprinkle the rice noodles with vegetables with feta pieces and add mint leaves.
Bon Appetit!
Also Like
Comments for "Rice Noodles with Zucchini Sauce"