Rice with Broccoli and Cauliflower
by Editorial Staff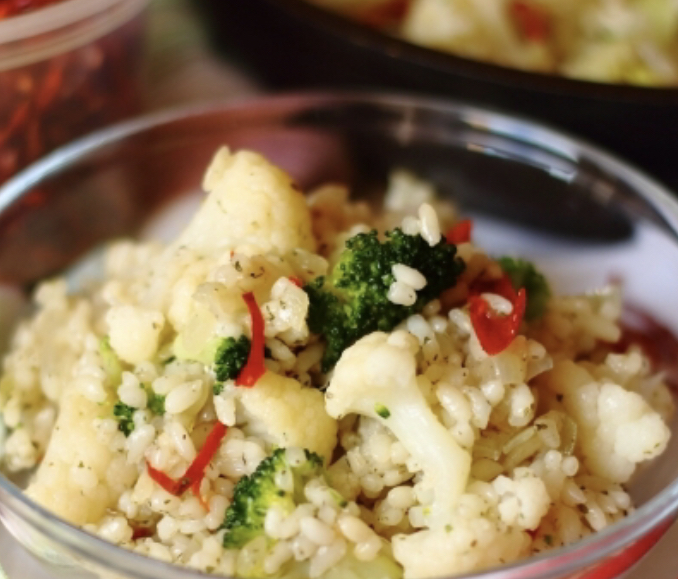 I have always been skeptical about frozen store mixes. Yes, this is a good way to preserve vitamins and beneficial properties of vegetables, fruits, and berries inaccessible in winter. But it's always better to use fresh food. And the taste of the frozen is not the same. It turns out that it's all about the right preparation. So, after blanching cauliflower and broccoli, we get juicy inflorescences, the taste of which is almost indistinguishable from fresh ones. They can be served on their own or used to prepare various dishes.
Ingredients
Rice – 0.5 cups
Frozen broccoli and cauliflower – 200 g
Onions – 1 pc.
Vegetable oil – 2 tablespoons
Salt, black pepper – to taste
Dried dill and parsley – to taste
Hot red pepper – to taste
Water – 1-1.5 cups
Directions
Today we cook rice with broccoli and cauliflower. The dish is simple and quick, and most importantly, very healthy, it can even be classified as dietary. So, let's take the following ingredients for cooking.
Peel the onion and cut it into small cubes.
Blanch the frozen cabbage in boiling salted water for 2 minutes.
Fry the onion in vegetable oil for 2-3 minutes, then add washed rice and spices to the pan: salt, red and black pepper, dried dill, and parsley. Mix and heat everything together for a couple of minutes.
Then fill with hot water and cook over medium heat until absorbed.
At the end of cooking, add the blanched cabbage, divided into smaller inflorescences.
Rice with broccoli and cauliflower is ready! Serve to the table as a main dish or side dish.
Enjoy your meal!
Also Like
Comments for "Rice with Broccoli and Cauliflower"