Rice with Meat Balls, Tomatoes and Bell Peppers
by Editorial Staff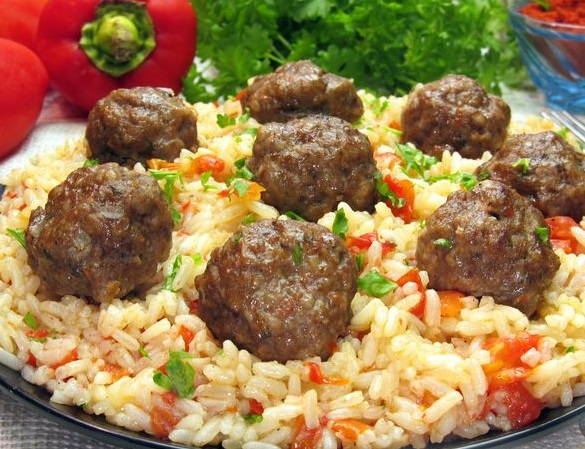 Rice with minced meatballs, tomatoes, and vegetables is delicious. And such a dish is prepared quite quickly and simply – in a frying pan! Rice is stewed along with fried meatballs (meatballs) and vegetables, soaked in meat juices, and turns out to be very tasty and aromatic. Thanks to tomatoes, the rice is also quite juicy. Worth a try!
Ingredients
Rice – 200 g
Tomatoes – 300 g
Onions – 100 g
Sweet pepper – 100 g
Garlic – 3 cloves
Vegetable oil – 2 tbsp (30 ml)
Salt – 1 teaspoon
Ground black pepper – 1/3 teaspoon or to taste
Fresh parsley (for serving) – 3-4 sprigs
Minced pork and beef – 600 g
Smoked paprika – 1 teaspoon
Dried thyme – 1 teaspoon
Ground black pepper – 1/3 teaspoon
Salt – 1 teaspoon
Directions
We prepare the necessary products. We wash the rice, changing the water several times.

Add thyme, paprika, 1/3 teaspoon of black pepper, and 1 teaspoon of salt to the minced meat.
Mix everything well.
From the minced meat, we form small balls about the size of a walnut. (I got 19 pieces.)
Peel the onion and cut into medium cubes.
Peel and chop the garlic with a knife.
Cut the tomatoes into small cubes.
Heat the oil in a frying pan and fry the onions, peppers, and garlic for about 5 minutes, until soft.
Then put the meatballs into the pan.
Fry the meatballs with the vegetables for about 10 minutes, until browning. The meatballs must be stirred frequently and gently so that they are evenly fried.
Then add the tomatoes to the pan.

We also add the washed rice.
Pour in 1 teaspoon of salt and ground black pepper.
Fill with water (400 ml) and mix gently.
Cooking rice with meatballs, tomatoes, and bell peppers under a lid over low heat for 25-30 minutes, until fully cooked and absorbed.
Rice with meatballs and vegetables is ready.We wash the parsley, dry it, and chop finely.


We layout the dish on portioned plates and sprinkle with chopped parsley.
Enjoy your meal!
Also Like
Comments for "Rice with Meat Balls, Tomatoes and Bell Peppers"