A sand cake with sour cream and egg filling turns out to be tasty and aromatic. Soft shortcrust pastry, crispy crust, and a very original filling of balls with prunes and nuts, which perfectly sets off the delicate taste of sour cream and egg filling. Despite its unusual appearance, making such a cake is not at all difficult!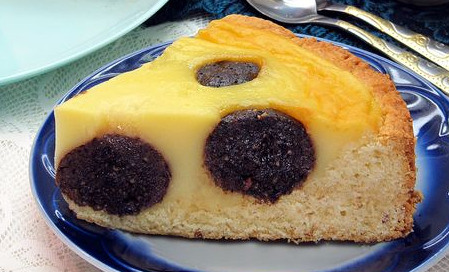 Ingredients
Butter (cold) – 100 g
Sour cream – 60 g
Egg – 1 pc.
Sugar – 80 g
Flour – 260-270 g (2 cups with a capacity of 200 ml)
Baking dough – 1 teaspoon
Salt – 1 pinch
To fill:
Sour cream – 300 g
Eggs – 2 pcs.
Sugar – 100 g
Corn starch – 60 g
Vanillin – on the tip of a knife
For filling:
Pitted prunes (soft) – 170 g
Walnuts (kernels) – 100 g
Directions
Sift the flour into a deep bowl, add a pinch of salt, sugar, and baking powder. We mix.
Cut the cold butter into small cubes and add to the flour.
Grind flour and butter into crumbs.
Then add the egg and sour cream.
Knead the soft dough (you don't need to knead for a long time).
Cover the bottom of the baking dish (I have a mold with a diameter of 22 cm) with parchment. Spread the dough with your hands over the bottom of the mold.
We form bumpers with a height of about 3 cm from the dough. Place the form with the dough in the refrigerator.
Preparing the filling: add eggs, sugar, and vanillin to the sour cream.
And also add starch.
Mix everything well with a mixer or a whisk. We turn on the oven to heat up to 180 degrees.
Prepare balls for the filling: combine prunes (soft) with walnuts.
Grind everything in a blender.
Form 9 balls from the resulting mass.
Put the balls on the dough.
Gently fill it with sour cream and egg filling and send it to an oven preheated to 180 degrees for 40-45 minutes.
When the dough is browned and the filling is completely set, a shortcrust cake filled with prunes with nuts and sour cream and egg filling is ready. We take out the cake from the oven, let it cool slightly.
Enjoy your meal!