Shepherd's Potato and Lamb Casserole (Shepherd's Pie)
by Editorial Staff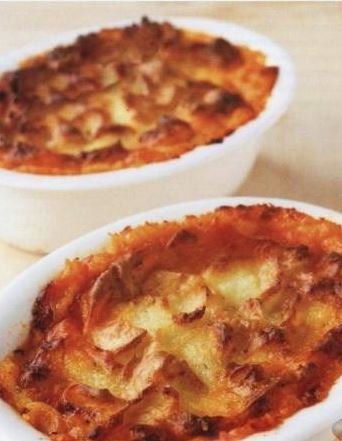 The main ingredients of this English dish are ground lamb, onions, carrots, and potatoes. The cooking technology of the casserole has not changed since ancient times, but ingredients can be added – for example, tomatoes or peas. Sprinkle cheese on top of the casserole.
Servings: 8
Ingredients
Potatoes – 1.1 kg
Butter – 2 tbsp
Salt
Ground black pepper
Olive oil – 6 tbsp
Diced onions – 3 pcs.
Diced carrots – 4 pcs.
Young lamb (lamb), ground – 1.1 kg
Chopped garlic – 6 cloves
Dried oregano – 2 teaspoon
Canned tomatoes, chopped pulp – 3 cans (400 g each)
Green peas, frozen – 250 g
Directions
Boil peeled potatoes until tender. Drain and mash well with butter until smooth, fluffy. Season with salt and pepper to taste.
In a cauldron (or another thick-walled dish), heat the olive oil and fry the onions and carrots over medium heat until soft (5 minutes). Add minced meat and cook, stirring constantly. Add garlic and oregano, cook for 1 minute, stir in tomatoes and bring to a boil.
Add the peas, season with salt and pepper, bring to a boil again and reduce heat. Cook for 20 minutes, stirring occasionally. Pour about 3.5 cm of meat sauce into a baking dish (two tins). Put mashed potatoes on top (at this stage, the casserole can be cooled, closed tightly, frozen, and baked when needed, without defrosting). Bake in the oven until tender.
Bon Appetit!
Also Like
Comments for "Shepherd's Potato and Lamb Casserole (Shepherd's Pie)"