Snack Cakes with Mushrooms, Cottage Cheese and Feta Cheese
by Editorial Staff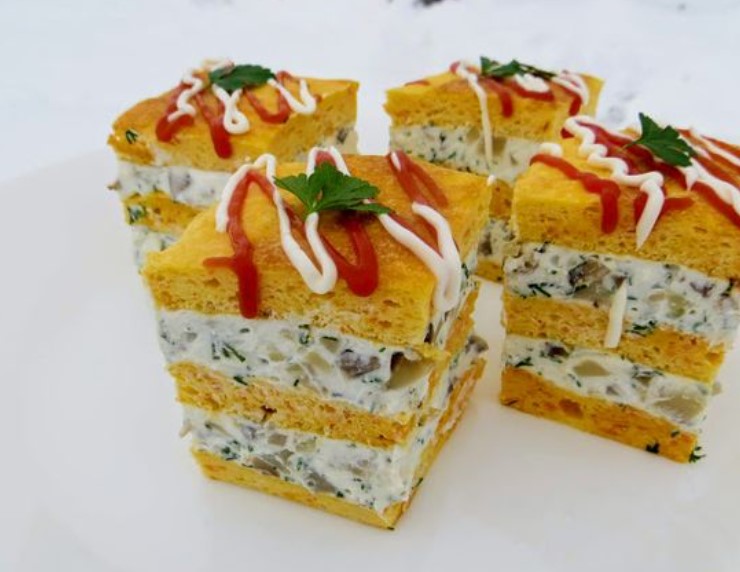 What we just do not come up with to surprise guests at the festive table! And here's a great recipe for you – delicious and beautiful snack cakes with mushrooms and feta cheese. Cakes are made easily from ordinary products. They will decorate any festive table, you can take it with you if you are celebrating with friends! In short, the recipe is a godsend! Be sure to cook it, then say thank you!
Ingredients
Eggs – 6 pcs.
Vegetable oil – 6 tbsp
Sour cream – 3 tbsp
Flour – 6 tbsp
Carrots – 1 pc.
Salt – 2 pinches
For filling:
Pasty cottage cheese 9% – 250 g
Bryndza – 100 g
Sour cream – 3 tbsp
Pickled mushrooms – 200 g
Dill greens – to taste
Gelatin – 1.5 teaspoon
Salt (if necessary) – to taste
For decoration:
Ketchup
Mayonnaise
Parsley
Directions
First, we prepare products for the dough.

Rub the carrots on a fine grater and put in a preheated pan with a small amount of oil (3 tablespoons). You don't need to fry the carrots, just simmer them until tender.
We divide the eggs into yolks and whites.
We send the proteins with a pinch of salt into the mixer bowl and beat until stable peaks.
Grind the yolks with the remaining salt.
Add sour cream, cooled carrots and the rest of vegetable oil to the yolks.
Mix and add sifted flour.
It remains to combine the dough with proteins. Add the beaten egg whites in portions and mix with folding movements.
Put the dough on a prepared baking sheet (covered with baking paper), evenly distribute and level. The size of my baking sheet is 35 * 26 cm.
We bake the cake at 180 degrees for 12 minutes. After baking, let the cake cool well on the wire rack. Then remove the parchment paper.
It's time to prepare the filling. It is better to take pickled mushrooms.
First of all, we soak gelatin in three tablespoons of boiled (cold) water.
Mix cheese, cottage cheese and sour cream with a mixer. We taste it for salt and, if necessary, add some salt. Continuing to beat, add the melted gelatin.
Finely chop the pickled mushrooms and combine with the curd filling.
Add finely chopped greens there. Mix everything well.
Cut the cooled cake into three equal parts. Divide the filling in half and distribute between the cakes.

We give a snack cake with mushrooms, cottage cheese and feta cheese for a couple of hours to soak.
Cut the snack cake into portioned cakes.
Before serving, decorate the cakes with a net of ketchup and mayonnaise and parsley leaves. And festive snack cakes with mushrooms, cottage cheese and feta cheese are ready! Very tasty and beautiful!
Bon appetit!
Also Like
Comments for "Snack Cakes with Mushrooms, Cottage Cheese and Feta Cheese"