Spaghetti with Spinach and Tomatoes
by Editorial Staff
I really love spinach. Therefore, I try to add it to many dishes. I found the recipe for spaghetti with spinach and tomatoes in an Italian cuisine book. I share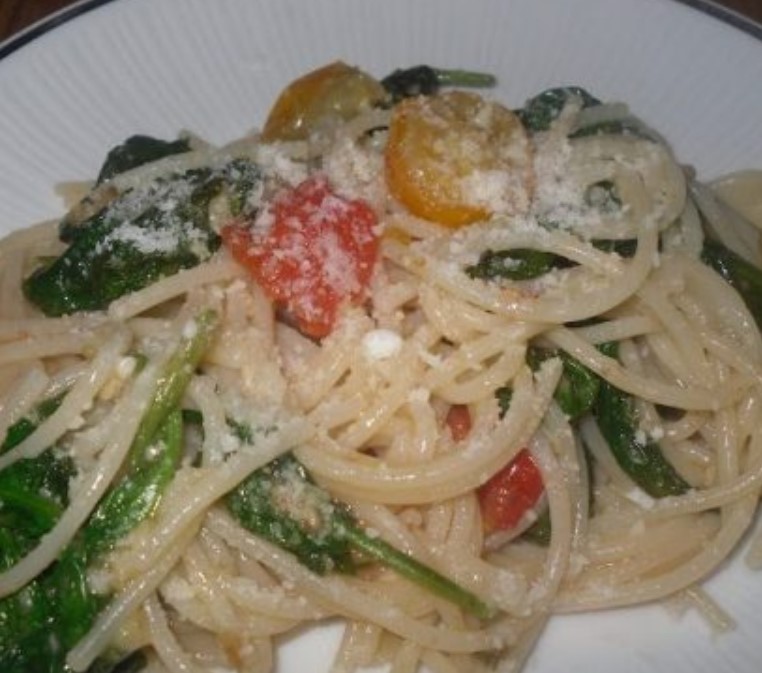 Cook: 30 mins
Servings: 3-4
Ingredients
Garlic – 2-3 Cloves
Olive oil – 3 tbsp
Cherry Tomatoes – 150 Grams
Spinach – 300 Grams
Parmesan cheese – 100-150 Gram
Spaghetti – 200-250 Grams
Salt – To taste
Ground black pepper – To taste
Directions
Heat the olive oil in a frying pan, put the garlic passed through a press and fry. Then add cherry tomatoes to the garlic, first cut them into two halves.
Cook the spaghetti. While they are cooking, simmer the spinach. Arrange the spinach with the cherry tomatoes (you don't need to chop it).

Stew the spinach until it is three to four times less than its raw state. If by the time the spinach is ready, the spaghetti hasn't boiled yet, that's okay. Set aside the spinach and tomatoes and wait for the spaghetti. In hot spaghetti, spinach and tomatoes will quickly heat themselves up.
Serve with grated Parmesan cheese.
Bon appetit!
Also Like
Comments for "Spaghetti with Spinach and Tomatoes"