Spaghetti Casserole with Spinach and Ham
by Editorial Staff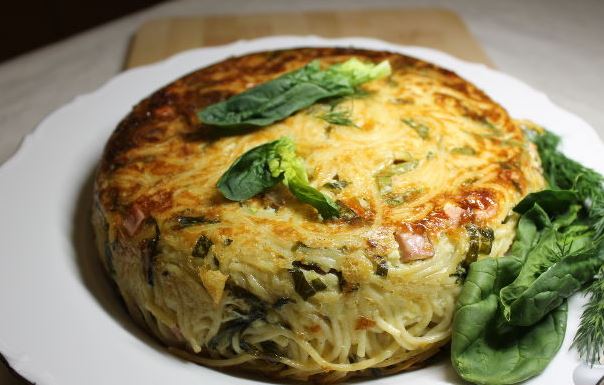 If guests are on the doorstep, and there is no time left to prepare an elegant and tasty dish, a recipe for spaghetti casserole with spinach and ham will come to your aid.
Ingredients
Spaghetti – 300 g
Spinach – 200 g
Ham – 200 g
Sun-dried tomatoes – 50 g
Cheese – 100 g
Chicken eggs – 2 pcs.
Cream – 200 g
Butter – 50 g
Salt – 20 g
Black pepper – to taste
Directions
Thoroughly rinse the spinach in running water and lay it out on a napkin so that the water is glass.
Add a small piece of butter to the salted water so that the spaghetti does not stick together, and boil the pasta. They should not be overcooked, they should be al dente, slightly undercooked. We put the spaghetti in a colander to cool.
Cut off the stems of the spinach leaves, finely chop the leaves. Pour cream into a bowl, break the eggs, add salt and black allspice to taste. Whisk the cream and eggs thoroughly.

Rub the cheese on a medium grater. Cut the ham into cubes. Put cheese and ham in a bowl of cream, mix everything. Add spinach and sun-dried tomatoes, mix everything again so that the cream is evenly distributed.

Add spaghetti to the bowl. Stir the pasta with cheese, ham, and spinach again. Grease the baking dish with a thick layer of oil.
Put the future pasta casserole in a greased form. We place it in the oven, preheated to a temperature of 170 degrees. After 45 minutes, our spaghetti casserole with spinach and ham is ready.
The pasta casserole can be served hot or cold.

Enjoy your meal!
Also Like
Comments for "Spaghetti Casserole with Spinach and Ham"