Sunflower Salad
by Editorial Staff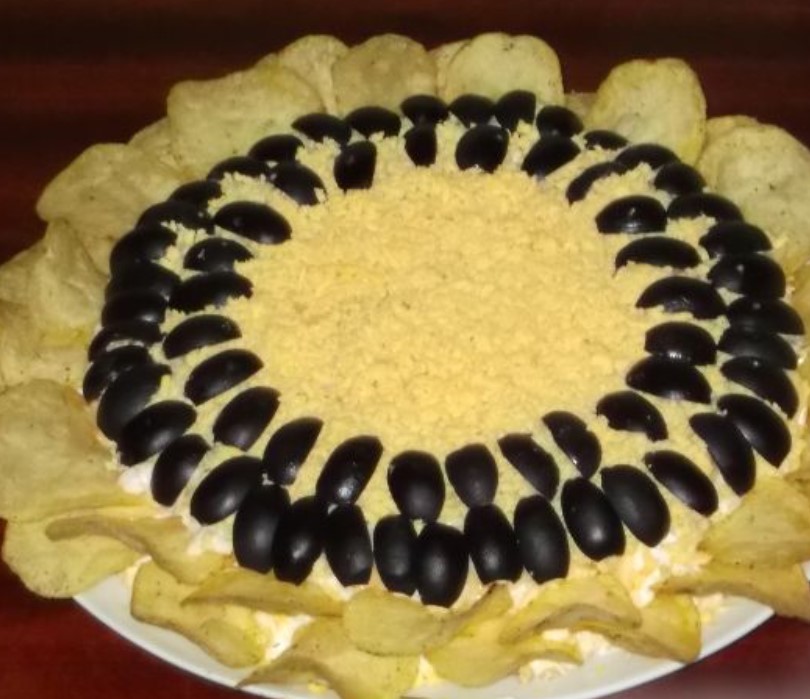 If you are looking for original and easy-to-prepare salads for your birthday, "Sunflower" is what you need! The Sunflower salad recipe is very simple, and the taste and design of the salad will delight you and your guests.
Cook: 1 hour
Servings: 8
Ingredients
Chicken Breast – 200 g
Champignons – 350 g
Eggs – 4 pcs.
Cheese – 100 g
Pitted black olives – 10-20 pcs.
Chips for decoration – 40-50 pcs.
Directions
Prepare products for the Sunflower salad.
Pour water over the chicken breast. Boil over medium heat until tender (30 minutes).
Cut the finished fillet into cubes.

Cut the champignons into slices.
Heat vegetable oil in a frying pan. Fry the mushrooms over medium heat, stirring occasionally, for 10 minutes.
Boil the eggs, separate the yolks from two eggs. Grate 2 squirrels and 2 whole eggs on a coarse grater.
Mash the yolks of 3 more eggs with a fork or grate on a fine grater.
Grate the cheese on a coarse grater.
Lay out the "Sunflower" salad in layers on a round dish, smearing each layer with mayonnaise. The sequence of layers:
1. chicken breast (and 2-3 tablespoons of mayonnaise).
2. fried champignons (and 2 tablespoons of mayonnaise).
3. grated eggs (3 tablespoons of mayonnaise);
4. cheese (2 tablespoons of mayonnaise);
5. yolks (no need to pour mayonnaise on top of the salad).

Cut olives lengthwise into 4 pieces.
Decorate the Sunflower salad with olives. You can lay out the entire surface of the salad with olives, or spread them only along the edge Put the Sunflower salad in the refrigerator for several hours. Place the sunflower petals from the chips around the edges of the salad before serving.
Bon appetit!
Also Like
Comments for "Sunflower Salad"