Vegetable Spaghetti with Feta Cheese
by Editorial Staff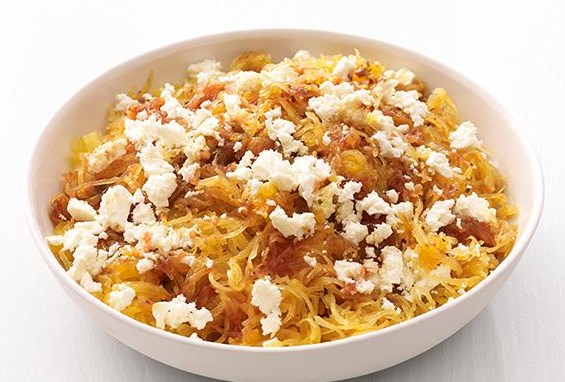 Make yellow squash vegetable pasta in tomato sauce. A low-calorie dish, rich in fiber and vitamins, which, moreover, will delight you with its unusual interesting aroma and taste. For vegetable noodles, you need pumpkin Spaghetti, once you boil it, it will easily separate into long fibers. Top the "spaghetti" with tomato sauce with a touch of cinnamon and oregano, and sprinkle with crumbled feta for a contrasting taste.
Cook: 20 mins
Servings: 4
Ingredients
1 yellow squash
1/4 Art. water
2 tbsp olive oil
2 tbsp tomato paste
0.5 teaspoon dried oregano
a pinch of cinnamon and sugar
Directions
Place 2 halves of yellow squash in a microwave-safe bowl; add 1/4 tablespoon. water, cover, and microwave for 16 minutes.
Let cool slightly, then use a fork to divide the pumpkin into fibers. You can also cook Spaghetti squash in the oven if you're making a large meal.
In a skillet over medium heat, heat 2 tbsp olive oil. Add 2 tbsp tomato paste, 0.5 teaspoon. dried oregano and a pinch of cinnamon and sugar; cook, stirring occasionally, for 2 minutes.
Then add 0.5 tablespoon. water and bring to a boil; salt. Add pumpkin and stir. Sprinkle with feta.
Also Like
Comments for "Vegetable Spaghetti with Feta Cheese"