Whey Pizza
by Editorial Staff
The dough is the basis of pizza, whatever it is – homemade or cooked by a master, with sausage or seafood, with parmesan or mozzarella. Here's a recipe for making pizza with whey.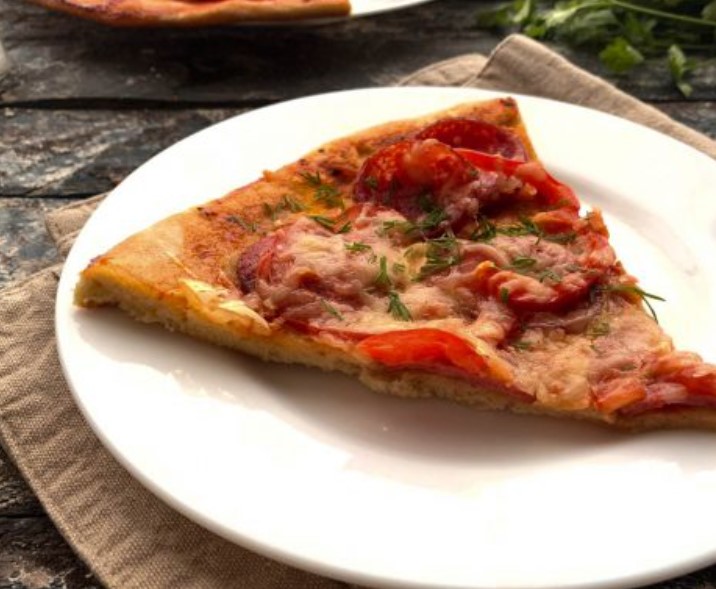 Cook: 1 hour
Servings: 5-7
Ingredients
Whey – 0.5 cups
Flour – 2 Glasses
Soda – 0.5 Teaspoons
Chicken egg – 1 Piece
Salt – 1 Teaspoon
Sugar – 1 Teaspoon
Vegetable oil – 3 tbsp
Mayonnaise – 3 Tbsp. spoons
Ketchup – 3 tbsp
Sausage – 200 Grams
Tomato – 1 Piece
Bulgarian pepper – 1 Piece
Cheese – 150 Grams
Directions
Prepare all the ingredients you need.
Pour room temperature whey into a deep container, add baking soda and stir.
Beat in an egg, add vegetable oil and mix gently.
Add 1 cup of sifted flour and mix well.
Add the remaining flour and knead the dough.
Cover the dough with a towel and store in a warm place for 20 minutes.
Roll out the dough thinly, put on a baking sheet, brush with mayonnaise, ketchup, lay out the filling, evenly distribute the cheese on top and send to the preheated oven to 180 degrees for 15 minutes.

Remove the pizza from the oven and let it cool slightly.
Cut the pizza into portions and serve.
Bon Appetit!
Also Like
Comments for "Whey Pizza"