Zucchini Boats Baked with Cottage Cheese
by Editorial Staff
Zucchini according to this recipe is baked with a fragrant filling of cottage cheese, hard cheese, garlic, and dill. The result is mouth-watering boats. Zucchini boats with cottage cheese are delicious and satisfying, even without meat!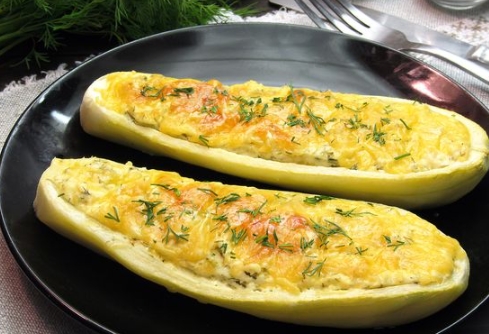 Servings: 3
Ingredients
Zucchini – 3-4 pcs. (1-1.2 kg)
Cottage cheese – 400 g
Hard cheese – 150 g
Garlic – 3 cloves
Eggs – 2 pcs.
Salt to taste
Ground black pepper – to taste
Fresh dill – 40 g
Directions
Essential products.

Zucchini, if desired, peel, cut each zucchini lengthwise into 2 parts. We take each half of the zucchini and cut out the middle. To do this, make an incision with a knife around the circumference of the courgette.

Then we make several longitudinal and transverse cuts in the middle of the zucchini (without going beyond the edges of the cut) – a mesh should turn out inside.
Then take out the cubes with a tablespoon or dessert spoon.
As a result, you should get such a "boat".
Put the cottage cheese in a bowl. Peel the garlic, pass it through a press and add to the curd.
We also add salt to taste (I added 1.3 teaspoon) and black ground pepper.
Rub the hard cheese on a medium grater.
Add 100 g of cheese to the curd.
Finely chop the dill and add to the curd and cheese. A little dill can be left to decorate the finished dish.
Drive eggs into a bowl of cheese and cottage cheese.
We turn on the oven to preheat to 180 degrees.
Cover the baking sheet with parchment, layout the zucchini halves and fill them with filling. Level the filling.
Sprinkle the zucchini on top with the remaining grated cheese.
We put the zucchini in an oven preheated to 180 degrees and bake for about 30 minutes, until tender.

We take out the finished zucchini boats with cottage cheese from the oven, sprinkle with the remaining dill if desired and serve.
Bon Appetit!
Also Like
Comments for "Zucchini Boats Baked with Cottage Cheese"