Almond Muffins with Passionfruit
by Editorial Staff
Muffins are prepared with the addition of ground almonds, white chocolate and passionfruit.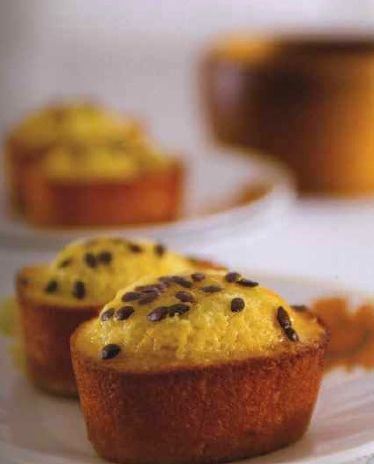 Ingredients
White chocolate (chopped) – 100 g
Ground almonds – 100 g
Passion fruit, pulp (fresh or canned) – 90 g
Butter – 90 g
Flour – 75 g
Baking powder – 0.5 teaspoon.
Salt – 1/8 teaspoon.
Powdered sugar – 225 g
Orange zest – 1 teaspoon
Egg whites – 6 pcs.
Butter for lubricating molds
Directions
Turn on the oven to preheat to 200 degrees. Oil 12 muffin tins.
Melt white chocolate and butter in a water bath. Remove from the bath, allow to cool.
In a separate bowl, combine flour, baking powder and salt. Add powdered sugar, almonds and zest, stir.
Beat the egg whites until fluffy, gradually add dry ingredients, melted chocolate and half of the passionfruit pulp into the whites, mix gently. Put the dough into prepared molds, filling them in half.
Place the remaining passionfruit pulp in the center of the muffins and place in a preheated oven, bake the almond muffins for 15-18 minutes, until golden brown. Then remove the almond muffins from the oven, let cool for 5 minutes and you can remove the muffins from the molds.
Also Like
Comments for "Almond Muffins with Passionfruit"