Baked Beetroot Salad with Tangerines, Feta and Walnuts
by Editorial Staff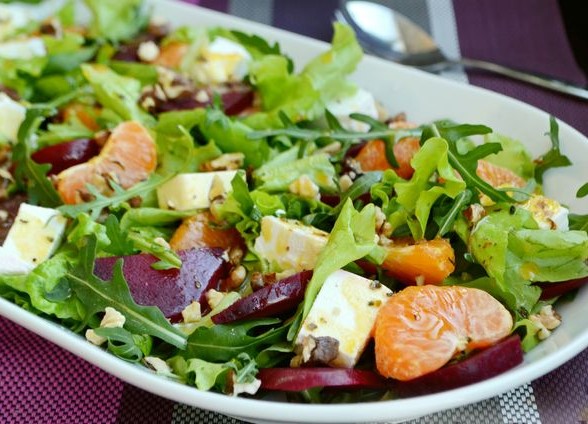 Beets can be an important ingredient in gourmet snacks. One of these dishes is baked beetroot salad with tangerines and feta. The salad is dressed with a mixture of olive oil, mustard, honey, and tangerine juice. Bright, original, and very juicy!
Cook: 1 hour
Servings: 3
Ingredients
Beets – 2 pcs. (250 g)
Mandarins – 2 pcs. (200 g)
Lettuce Leaves Mix (Rucola and Lettuce) – 1 bunch (150 g)
Feta cheese – 100 g
Walnuts – 50 g
Olive oil – 3 tablespoon.
Salt – 1 pinch (to taste)
Mustard – 1 tablespoon
Liquid honey – 1 tablespoon.
Dried Provencal herbs – 1/2 teaspoon
Mandarin (juice) – 0.5 pcs.
Directions
Rinse and dry the lettuce leaves thoroughly.
Turn on the oven to heat up to 180 degrees.
First, wash the beets, pat dry with a paper towel, and wrap in foil. Bake the beets in the oven for about 30-40 minutes. Cool the beets without unrolling the foil.
Prepare a dressing. To do this, combine olive oil, mustard, honey, salt, a mixture of peppers, and dry Provencal herbs in a deep bowl. Squeeze the juice of half a tangerine into a bowl.
Stir the dressing with a whisk or spoon until the smooth, taste and add salt if necessary.

Peel the cooled baked beets and cut them into thin semicircles.
Cut the feta into large cubes.
Chop the walnuts with a knife.
Peel the remaining tangerines of the peel, seeds, and white membranes – they are bitter in the salad.
Place the salad leaves on a salad platter.

Top with tangerine wedges, chopped beets, and feta cubes.
Sprinkle the chopped nuts over the salad and sprinkle with the dressing generously.

Serve salad of baked beetroot with tangerines, feta, and walnuts.
The new interesting taste of this appetizer will appeal to those who love interesting product combinations and are not averse to experimenting!
Also Like
Comments for "Baked Beetroot Salad with Tangerines, Feta and Walnuts"