Baked Potatoes "Like on a Fire"
by Editorial Staff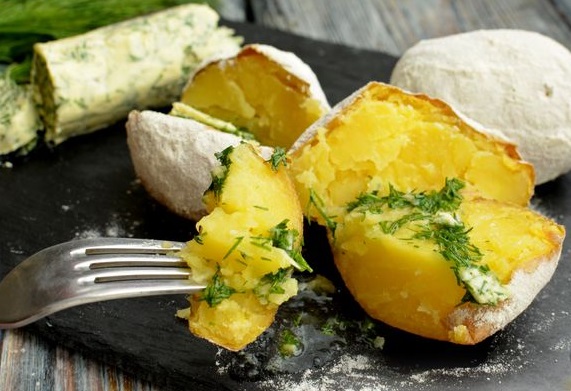 Baked potatoes in breadcrumbs, and even supplemented with butter with dill and garlic – a rather high-calorie side dish. But how delicious it is! If you like to bake potatoes in the ashes of a fire, be sure to cook this dish – thanks to the breading in a mixture of flour and salt, the tubers are covered with a crust and the potatoes taste exactly like baked in a fire!
Ingredients
Potatoes – 800 g (5-6 pcs.)
Butter – 80 g
Fresh dill – 40 g (1/2 bunch)
Garlic – 1-2 cloves
Coarse salt – 1 tbsp
Flour – 2 tbsp
Directions
Prepare all ingredients. Breaded baked potatoes cook quite quickly, so it is best to turn on the oven beforehand to a temperature of 190 degrees. If you are going to supplement the baked potatoes with garlic oil and herbs, it is better to get the butter out of the refrigerator in advance.

Wash the potatoes thoroughly with a brush, as they will be baked in a peel. Combine flour and salt in a bag. Stir.
Put wet washed potatoes in a bag, tie and shake the bag so that the flour mixture covers the potato tubers on all sides.
Line a baking dish with foil and place the potatoes in the flour and salt mixture. Place the potatoes in an oven preheated to 190 degrees for about 1 hour.
To keep the potatoes not dry, prepare aromatic garlic oil with herbs. Peel the garlic and grate on a fine grater. Rinse the dull, dry, and chop finely with a knife.
In a deep bowl, combine softened butter, chopped dill, and garlic. Season with salt and stir until smooth.
Transfer the garlic oil and herbs to a sheet of foil and gently smooth out the oil to form a sausage.
Roll up the buttered foil and place the creamy sausage in the freezer for 30-40 minutes.
Then remove the frozen oil from the freezer, free it from the foil and cut into washers 0.8-1 cm thick.

After the time has passed, remove the potatoes from the oven. The appearance of the tubers remained practically unchanged.
Cut the baked potatoes into 2 parts, put a slice of garlic oil with herbs in one half.
Baked potatoes "like on a fire" are ready.
The taste is really exactly the same! The only thing missing is the aroma of smoke and the crackling of wood in the fire.

The oil on the hot potato melted quickly, absorbed into the loose flesh, and made the potato taste perfect!
Also Like
Comments for "Baked Potatoes "Like on a Fire""