Ear on the Fire
by Editorial Staff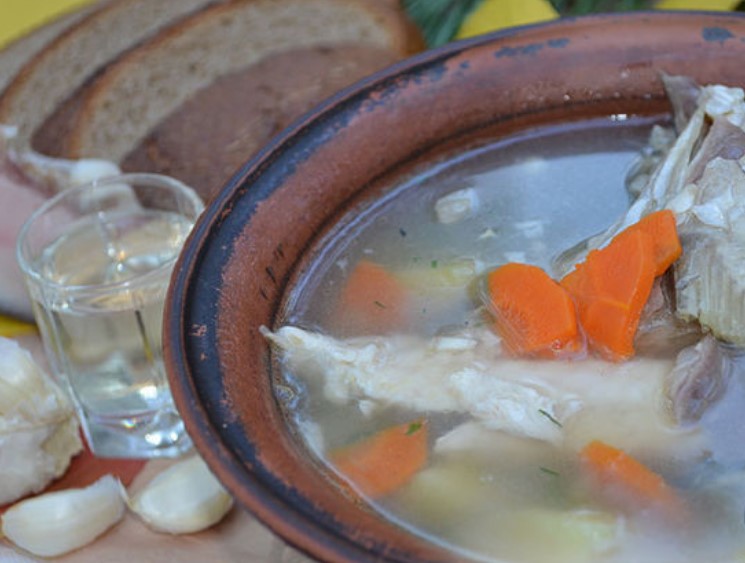 The most important thing in making fish soup is a good mood and a couple of best friends. More is possible if it's a day off …;)
Ingredients
Silver carp – large head and part of the tail.
Potatoes – 4 pcs.
Bulb onions – 2 pcs.
Carrots – 1 pc.
Millet – 100 g
Greens – 1 bunch
Garlic – 2 teeth
Lard – 100 g
Vodka – 50 g
Salt – 1 tbsp
Ground black pepper – 1 teaspoon.
Besides products:
Burning log (from fruit tree) – 1 pc.
Directions
First you need to remove the gills from the fish's head. If the head is large, then chop it. Wash thoroughly from blood. Put all the fish in a container and cover with water, soak for 2 hours. Thus, there will be no scale in the broth, the broth will be clean and transparent. Now you need to light the fire.
Install a pot of water. The water should boil. Here are the foods we will be using to make the Wuhi.

Potatoes, carrots, one onion, peel the garlic. Wash the second onion, leave the husk. The water in the cauldron is boiling, it boils with might and main, I already want to start cooking everything as soon as possible. Now we cut the potatoes into cubes, home-style, as we are used to. Carrots can be thrown whole or cut, we decided to cut, add some bright colors. We take potatoes, carrots and a whole onion – we send them to a boiling, bubbling cauldron, cook for 10 minutes. Add salt to taste, cover with a lid.
We take the fish out of the water, let the excess water drain and put it in the cauldron. Cover with a lid and cook for 10-15 minutes.
While the fish is boiling with vegetables, cut the bacon into small cubes. You don't need to add lard to your ear, but we decided to make it a little rich. Cut the onion into small cubes. Chop the garlic with a knife. Rinse the millet. Wash greens, shake off water, chop. After ten minutes, take out the fish, also remove the onion
We send onions, bacon, millet, black ground pepper to the cauldron. Cook for 10 minutes.
After ten minutes, pour a glass of vodka into the cauldron. Stew the fruit log that we prepared in advance in the ear, remove the remaining ash.
At the very end, add chopped greens, cover with a lid. We remove the cauldron from the fire. If desired, put a pinch of garlic in a bowl, pour the fish soup, put a piece of fish. Pour a glass of vodka to the ready-made Ukha, take a slice of black bread and start our meal in nature. The fish soup is very tasty and aromatic.
Enjoy your rest and appetite! Enjoy life, because it is so beautiful!
Also Like
Comments for "Ear on the Fire"