Korean Pig Ears
by Editorial Staff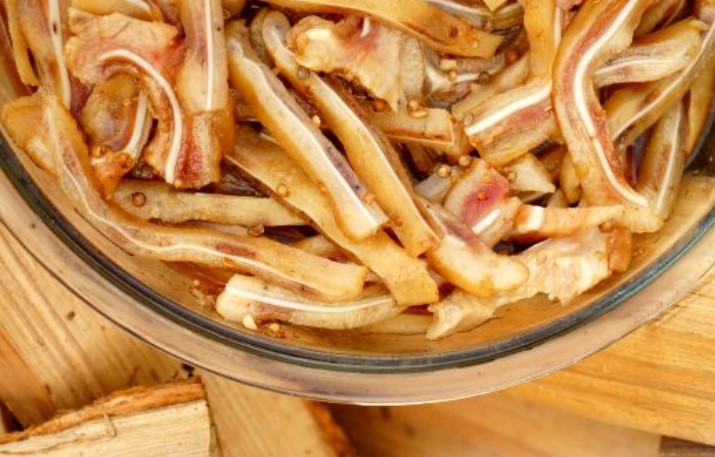 Mega-delicious Korean style pork ears. The ears come out spicy and crispy!
Cook: 6 hours
Servings: 4
Ingredients
For the broth in which the ears will be cooked:
Bulb onions – 1 pc.
Peppercorn mixture – 1 handful
Allspice peas – several pieces
Garlic – 1 head
Bay leaf – 2 pcs.
Salt to taste
For the marinade:
Garlic – 5-7 cloves
Coriander beans – 1 teaspoon
Vinegar 9% – 1-2 tbsp
Soy sauce – 4-5 tbsp (taste)
Sugar – 1-2 teaspoon (taste)
Water – 5 tbsp
Directions
Thoroughly rinse the pig ears, clean the auricle very well.

Put the pork ears in boiling water and cook for 30-40 minutes with peas, allspice, bay leaves, garlic and onions.
Cut the cooled pork ears into thin strips.
Cooking the marinade. To do this, chop the garlic, put it in a mortar, add coriander and grind. Add vinegar, soy sauce, sugar and water. Mix everything very thoroughly.

Fill the chopped pork ears with the cooked marinade. Leave the ears to marinate for 5 hours. For easy storage, you can put them in a glass jar.
Bon appetit!
Also Like
Comments for "Korean Pig Ears"