Bean Soup with Sauerkraut
by Editorial Staff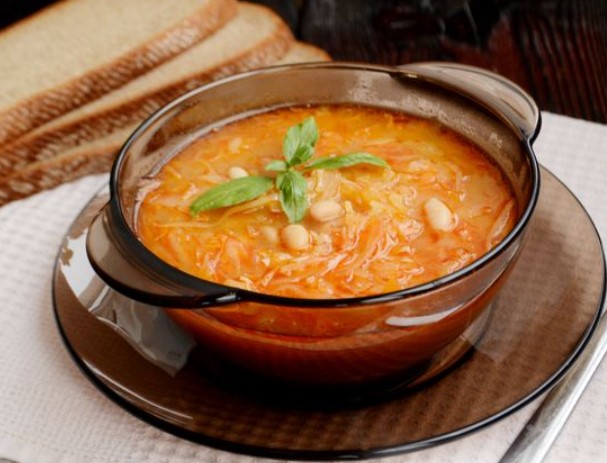 Sauerkraut and beans soup is simple at first glance and not very interesting. But be sure to cook it! This first dish based on Hungarian cuisine – with a light aroma and bright paprika color, with a pleasant sourness of cabbage and a mild taste of white beans – can become one of your favorites on your table! At the same time, vegetable soup with beans is perfect for vegetarians.
Cook: 30 mins
Servings: 4
Ingredients
Sauerkraut – 250 g
Canned beans – 200 g
Bulb onions – 1 pc.
Ground paprika – 1 teaspoon
Garlic – 1 clove
Flour – 1 tbsp
Salt – 1 pinch
Vegetable oil – 50 ml
Fresh herbs (basil or parsley), for serving – to taste
Directions
Prepare all the ingredients you need. Beans can be used dry, in this case fill it with water for 4-5 hours the day before, and then boil for 1-1.5 hours, until tender. Drain the canned beans. Squeeze sauerkraut. Peel the onions.

Pour the cabbage in a small saucepan or saucepan with 1 liter of water, bring to a boil and cook until tender, about 15-20 minutes.
Finely chop the onion. Heat vegetable oil in a heavy-bottomed saucepan, add chopped onion and fry for 5-7 minutes, until transparent.
Add flour to the pan to the onion, stir and fry until light golden brown.
Add paprika to the pan, stir and fry for another 1 minute.
Pour the cabbage and water into a saucepan with fried onions and paprika. Stir and bring to a boil.
Add beans to a saucepan, bring to a boil again.
Chop the garlic finely. Season the soup with salt, add garlic and turn off the heat.
Let the bean soup sit on the switched off stove for another 8-10 minutes.

Pour the soup into bowls and serve. This soup with rye bread is very tasty.
You can garnish the soup with fresh parsley or basil. An aromatic, rich soup with cabbage and beans is a great way to saturate the body! Good appetit!
Also Like
Comments for "Bean Soup with Sauerkraut"