Beans with Sauerkraut
by Editorial Staff
Recently, I have had many successful recipes, but this one … I don't know what is so magical in the combination of sauerkraut and beans, but it is simply obscenely delicious for such a modest dish in terms of ingredients.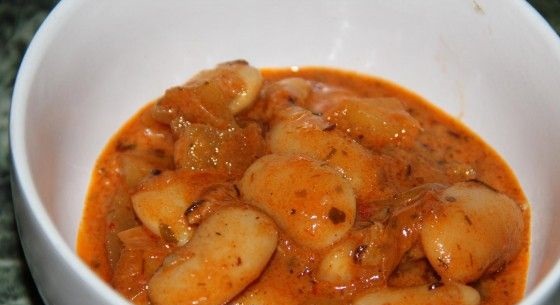 Ingredients
Large white beans – 400 g
Sauerkraut – 800 g (all that was left)
Pork legs – 3 pcs.
Smoked bacon with skin – a small piece, 100 grams
Potatoes – 2-3 pcs.
Onions – 5 pcs. (1 pc. – for broth)
Garlic – small head
Tomato paste – 2 tablespoons
Sour cream – 200 g
Smoked paprika – 2 tablespoons
Black pepper
Hot red pepper
Allspice
Bay leaf
Marjoram
Dill
Salt
Sugar
Directions
I advise you to start the day before cooking the broth. Boil the pork legs for 3-4 hours with one onion, allspice, and bay leaf. Allow the meat to cool completely in the broth, disassemble the legs, finely chop the meat. Strain the broth, leave it in the refrigerator, remove excess fat collected on the surface. The broth is safely frozen in jelly.
Simultaneously with cooking the broth, soak the beans for a couple of hours and boil them together with the skins of smoked bacon for an hour. Basically, I just tried, checking readiness. Salt the beans 15 minutes before the end of cooking.
We melt the fat from a piece of smoked bacon. We do this slowly, over low heat, so that the greaves do not burn. We, of course, will remove them all, but the bitter taste will not go anywhere afterward. So let's take our time.
Taking out greaves from the cauldron, send finely diced onion there, fry until translucent and blush. Add paprika, dissolve it well in fat. If the cabbage was fermented without cumin, it's time to add it too, but I have plenty of it in my cabbage.
Add cabbage, well squeezed out and, if necessary, washed. We fry it over medium heat, stirring constantly and not letting it burn. It must "grab", so it is important to keep the golden mean – and fry, and not burn. ; )) Add a glass of broth, reduce the heat, simmer for 30 minutes.
Fry tomato paste in a separate bowl. Stalin (Khankishiev – ed.) Repeatedly wrote that it depends on roasting a tomato whether the dish looks like a masterpiece or like rubbish from a bad canteen (my grandmother worked in the canteen during the Soviet Union and said that they had fried pasta with them). The paste should darken and start to smell good. We add 2 tablespoons of sugar to it (it's okay, okay, that's how you need it, honestly, it will be very tasty!), Dilute a little with broth and send it to the cabbage with onions.
Add diced potatoes there. Add broth and simmer until cabbage is cooked.
Return the meat from the pork legs to the cauldron, put the beans and chopped garlic there. Straighten it with salt, add black pepper and hot red pepper (well, I love to set off paprika with them!), Dry herbs, sour cream. Cooking for another 10-15 minutes. Be sure to let it brew!
Bon Appetit!
Also Like
Comments for "Beans with Sauerkraut"