Beans and Halibut Stew with Pasta
by Editorial Staff
For this stew, you will need green beans and canned white beans. Halibut fillet and shell pasta are also added to the stew.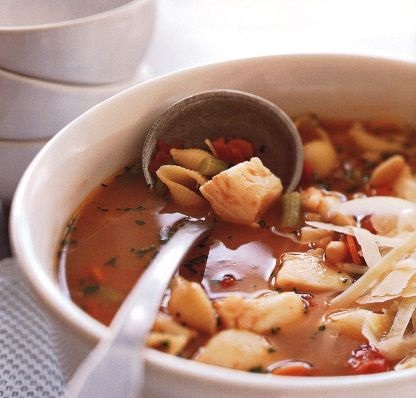 Servings: 4
Ingredients
Green beans (cut into 2.5 cm pieces) – 2 cups (about 220 g)
Canned white beans (drained) – 420 g
Small shell pasta – 1 glass
Halibut, fillet (cut into 2.5 cm pieces) – 400 g
Parmesan cheese (shavings) – 30 g
Olive oil – 1 tbsp
Garlic (chopped) – 2 cloves
Onions (chopped) – 0.5 cups
Chicken broth – 780 g
Fresh basil (chopped) – 2 tbsp
Fresh oregano (chopped) – 1 tbsp
Tomato paste – 2 tbsp
Ground black pepper – 0.25 tbsp
Directions
Heat olive oil in a large cast-iron pot (cauldron) over medium-high heat. Pour onion and garlic into a saucepan, fry, stirring occasionally, for about 5 minutes, until the onions are soft. Then put the green beans, carrots, white beans, and tomatoes in a saucepan, pour over the broth, bring to a boil. Place the pasta in a saucepan, cover, reduce heat and cook the bean and pasta ragout for about 12 minutes, until the pasta is done.
Then add basil, oregano, tomato paste, and black pepper into a saucepan. Place the fish in a saucepan and cook the bean stew for 3 minutes.
Serve stew with beans in portioned bowls, sprinkle with cheese.
Bon appetit!
Also Like
Comments for "Beans and Halibut Stew with Pasta"