Halibut Ceviche
by Editorial Staff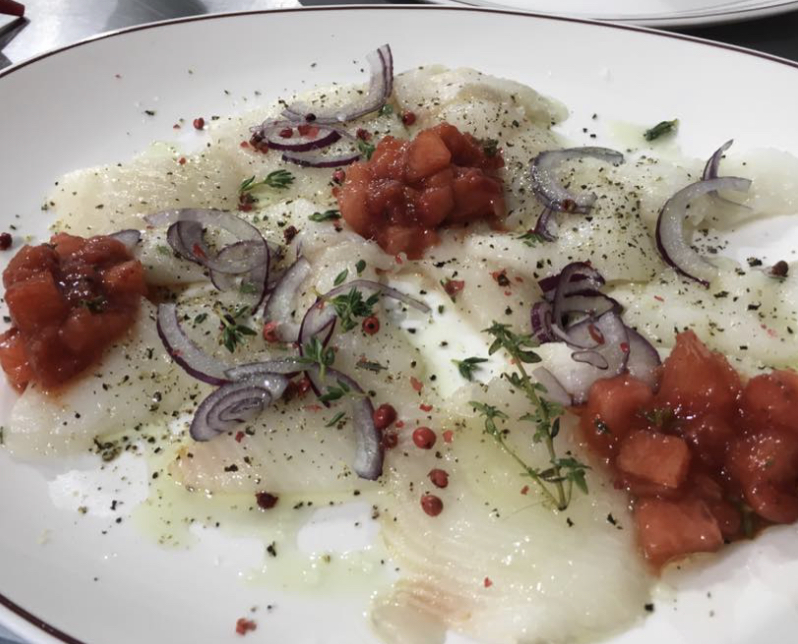 Many people think that ceviche is something purely restaurant. We all tried this fashionable dish for the first time, which came from Peru, in some restaurant, but making it at home is not at all difficult, the main thing is to get excellent fish or seafood. Ceviche is food "cooked" with salt and lemon juice, often without heat treatment. Our fatty Russian halibut is perfect. You can even buy frozen and leave it in the refrigerator until it is completely defrosted, wipe it off several times with a paper towel, and only then start cooking ceviche. I like the combination of slightly marinated fatty halibut and a light sweet and sour watermelon, strawberry, and tomato tartar sauce.
Ingredients
Small red onion 1 pc
Small chili pepper 1 pc
Halibut fillet 400 gr
Skinless, seedless tomatoes, finely diced 1/2 cup
Watermelon, cut into small cubes 1 cup
Frozen chopped strawberries 1 cup
Limes 2-3 pcs (depending on size)
A little chopped cilantro or a sprig of thyme
Olive oil
Cilantro oil (optional)
Sugar, pink pepper, freshly ground black pepper, coarse crystalline salt
For green cilantro oil:
Fresh cilantro 60 gr
Vegetable oil 100 ml
Directions
Chop the onion thinly, immerse it in ice water and leave for 5 minutes. Then dry and sprinkle with lemon juice. Thinly chop the chili pepper
Prepare a mixture: 2 tablespoon of fine salt and 3 teaspoon of sugar. Sprinkle with halibut fillets and leave for 15 minutes. Then rinse in ice water and pat dry with paper towels. If not used immediately, repack and refrigerate
Puree the strawberries with half the watermelon cubes. Mix the puree with the remaining watermelon and tomato cubes.
Season with a little olive oil and a drop of salt, so as not to crease.
Halibut fillet cut into slices 3-4 mm thick and put on a plate. Drizzle generously with lime juice and leave for 5 minutes. Then drizzle with olive oil or cilantro oil. Sprinkle a little with large crystals of salt, black pepper, slightly pressed pink pepper, and chili
Garnish with watermelon tartar sauce, cilantro leaves (thyme sprigs), and red onion
Green cilantro oil:
Coarsely chop the cilantro, place in a small saucepan, add oil, and place
over medium heat.
Heat 5 minutes without boiling
Remove from heat and allow to cool completely to room temperature
Puree until smooth and strain through a fine sieve. Keep refrigerated.
Enjoy your meal!
Also Like
Comments for "Halibut Ceviche"