Brownie with Raspberries
by Editorial Staff
Brownie is a chocolate brownie. It can be with a variety of fillings, invariably – chocolate dough. Sharing a recipe for brownie with raspberries!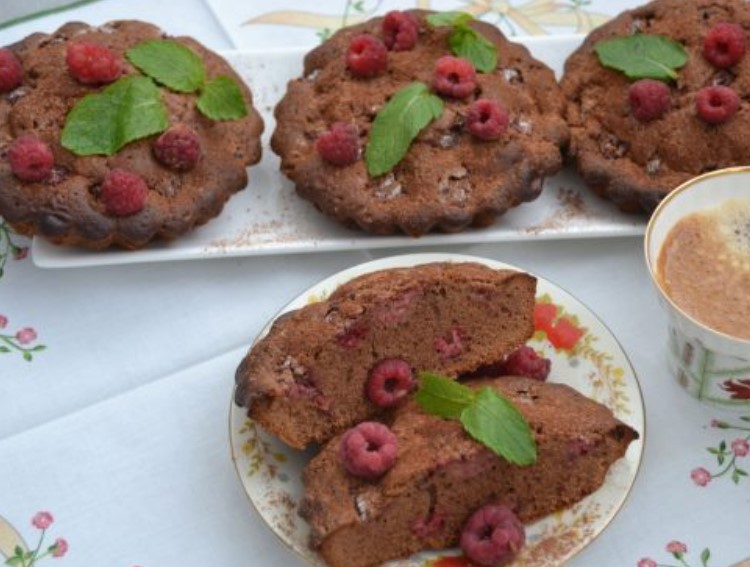 Cook: 1 hour
Servings: 4
Ingredients
Chocolate – 100 Grams
Butter – 120 grams (100 grams – for dough, 20 grams – for greasing the mold)
Salt – 1 Pinch
Wheat flour – 125 grams
Baking powder – 1 teaspoon (no slide)
Corn starch – 2 Teaspoons
Sugar – 150 Grams (120 grams – in the dough, 30 grams – for sprinkling raspberries)
Raspberries – 200-300 Grams (fresh)
Cocoa powder – 1-2 Teaspoons
Chicken eggs – 2 Pieces
Directions
Prepare your ingredients.

Put the chocolate in a saucepan and melt in a water bath.
Stir the butter into the chocolate.
Beat eggs into a bowl, add sugar, a pinch of salt.
Beat everything well until fluffy, pour the chocolate mass into the eggs.
Combine the flour with the baking powder.
Pour flour mixture into a bowl, knead the dough with a mixer.
Sprinkle the raspberries lightly with a mixture of sugar and starch.
Prepare baking dishes, this can be one or several. Lubricate the sides with butter, lightly dust with flour.
Pour in the first layer of dough, put the berries on it.

Pour the remaining dough over the berries.
Place the remaining berries on top of the dough. Bake brownies in the oven at 180 degrees for 40-45 minutes, check readiness with a wooden toothpick. The pastry must remain dry when pierced.
Lightly dust the brownie with cocoa powder before serving. An unusually delicious dessert is ready! By the way, brownies can also be cooked in winter, with frozen raspberries.
Bon appetit!
Also Like
Comments for "Brownie with Raspberries"