Bruschetta with Onion and Red Fish
by Editorial Staff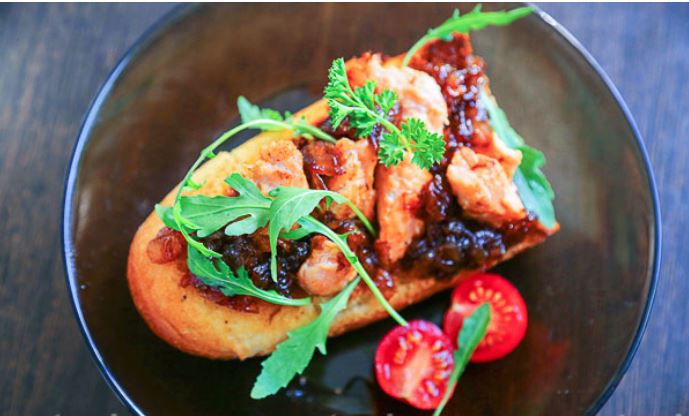 The popular Italian appetizer, which is a variation of the regular sandwich, can be served with just about any toppings. Redfish and caramelized onions are an opportunity to try new flavors from the available products. This bruschetta is usually served hot, but it tastes just as good when cold.
Ingredients
french loaf
onions – 1 pc.
redfish
greens
butter
salt to taste
pepper mixture – to taste
Provencal herbs to taste
rice vinegar – 1 teaspoon
brown sugar – 1 tablespoon
lemon juice to taste.
Directions
The first step is to prepare the bruschetta, which is a slice of the toasted loaf. The French loaf is cut into pieces, from which the top is removed obliquely. Then the bun is quickly fried on both sides in a pan in melted butter.

The next stage is the preparation of onions. Peel it off and finely chop it.
A small amount of any oil is heated in a frying pan, the onions are sautéed, as usual, until a light golden hue and transparency. Then pour about one teaspoon of rice vinegar into the pan and stir the onions vigorously. You can use regular culinary vinegar, diluted heavily with water. Then add one tablespoon of brown cane sugar to the onion. The usual white sugar from domestic sugar beet will have to be used about twice as much. Stir the onion vigorously.

Next, the caramelized onions are continuously stirred with a wooden spatula, adding a little water if necessary. And so on until the onion turns brown.
Meanwhile, redfish fillets are cut into small pieces, quickly fried in butter, salted, sprinkled with pepper, and then sprinkled with plenty of lemon juice. All ingredients are spread on bruschetta, sprinkled with chopped fresh herbs, and served hot.
Also Like
Comments for "Bruschetta with Onion and Red Fish"