Bruschetta Green and Bruschetta Red
by Editorial Staff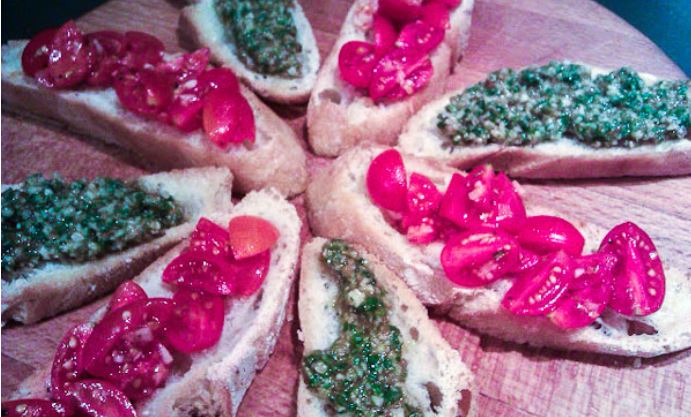 You say pesto, but pesto can be different. In this recipe, bruschetta is prepared with pesto alla Trapani (as in Trapani), which is composed of basil, tomatoes, garlic almonds, and grated pecorino cheese.
Ingredients
ciabatta bread
for pesto alla Trapanese:
basil (green) – 30g
almonds – 30g
garlic – 1 clove
pecorino cheese (grated) – 1/2 tablespoon
tomatoes – 100g
pepper (freshly ground) – to taste
olive oil to taste
for tomato topping:
cherry tomatoes – 100-150g
garlic – 1 clove.
Directions
For the green bruschetta.
She peeled the tomato and scalded it with boiling water. She also peeled the seeds from the tomato, cutting it into four parts. I put basil leaves, a clove of garlic, almonds, a pinch of salt, and a tomato into the grinder. I will prepare the pesto alla Trapanese (like in Trapani).

Grind and begin to slowly mix with pecorino, and then a little olive oil and freshly ground pepper.
Cut the cherry tomatoes into 4 parts, salt, and pepper, add half a clove of garlic, a little oregano, and leave on a little. Cut the bread, rub it with garlic and sprinkle it lightly with olive oil. I dried it a little in the oven. Then covered some of the bruschettas with tomatoes and some of the pesto.
Bon appetit!
Also Like
Comments for "Bruschetta Green and Bruschetta Red"