Bruschetta Burger
by Editorial Staff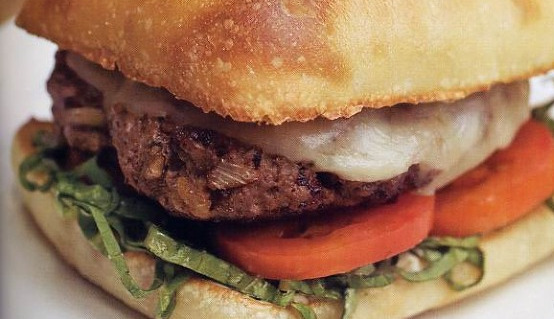 As soon as hot sandwiches are not called … For example, bruschetta is a traditional Italian dish, a simple appetizer of fried bread with olive oil, garlic, tomatoes, spices. In this recipe, bruschetta is similar to an American burger, but with a strong "Italian accent."
Servings: 5
Ingredients
Ground meat – 700 g
Fresh mushrooms, finely chopped – 1 cup
Onion, finely chopped – ½ cup
Fresh basil, chopped – 2 tbsp
Balsamic vinegar – 1 tbsp
Salt – ½ teaspoon.
Mayonnaise – ½ cup
Pesto sauce (basil, garlic, pine nuts, olive oil, parmesan) – 2 tbsp
Ciabatta (Italian bread) – 5 pcs.
Roman Lettuce (Kos Lettuce) – 2 cups
Tomatoes – 2 pcs.
Provolone cheese – 5 slices
Directions
Toss the ground meat with mushrooms, onions, basil, vinegar, and salt. Form 5 round cutlets from the minced meat.
Preheat the grill to 180-200 degrees. Spray the grate with a special non-stick spray.
Grill prepared cutlets, covered, for 7-8 minutes on each side.
Cut the ciabatta rolls in half and fry.
Combine mayonnaise and pesto. Spread the sauce over one half of the roll. Arrange chopped (torn) lettuce leaves, tomato circles, meat patties, and cheese. Cover with the top of the ciabatta.
Bon Appetit!
Also Like
Comments for "Bruschetta Burger"