Burnt Almond Cake with Honey Toffee
by Editorial Staff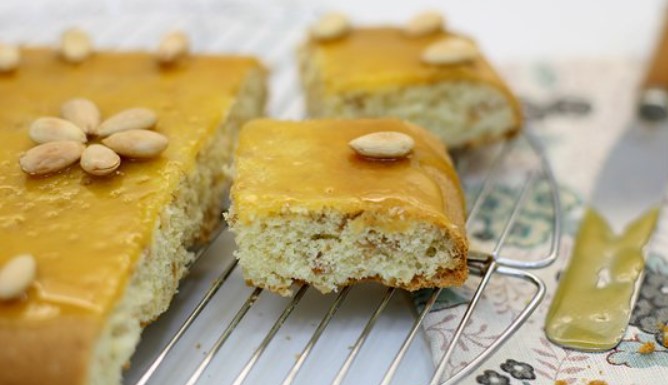 This recipe is based on a very simple sponge cake.
Ingredients
Almonds – 125 g
Eggs – 2 pcs.
Sugar – 125 g
Flour – 125 g
Butter – 100 g (melted) + 30 g for the toffee
Honey – 50 g
Directions
Peel the almonds and roast them in the oven for about 15 minutes at 180 C. Cool and chop 100 g of them into crumbs. Crumbs can vary from small to large pieces.
Whisk the eggs and sugar into a thick fluffy foam (for 4-5 minutes with a mixer at maximum speed).
Add the flour and mix everything. Mix the mass moving from bottom to top and from the edge to the center. Mix gently but vigorously enough until you get a smooth mass.
Pour the melted butter (not hot) and mix the mass thoroughly again in the same way.
Add the almonds and mix again.
Pour the batter into a mold greased with some butter and bake the cake at 180 C for 35-40 minutes. Check if the cake is done with a matchstick; it should rise evenly. Cool it down on a rack.
Make a toffee: put the butter and honey in a saucepan and boil them over medium heat until the mass is full of bubbles. Drop a little on a saucer from time to time after removing it from the heat and check that it is done.
Pour the toffee over the cake and spread it over its entire surface. Decorate the cake, still warm, with the remaining almonds.
Also Like
Comments for "Burnt Almond Cake with Honey Toffee"