Butternut Squash Lasagna Recipe
by Editorial Staff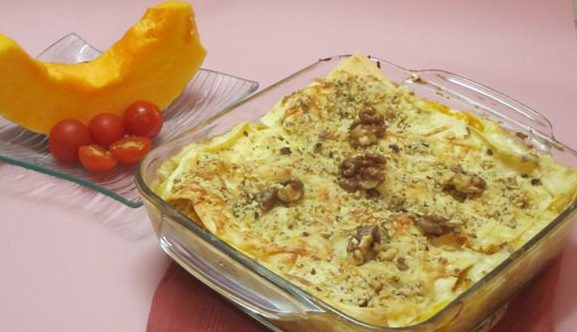 For this lasagna, I took one of my favorite vegetables – pumpkin. The puree turns out to be quite dense to become a filling, and the addition of pumpkin pieces allows you to play with the textures.
Ingredients
1 medium butternut squash (about 6 cups, diced)
3 tablespoons olive oil
2 cups ricotta cheese
½ cup milk
2 teaspoons of salt
2 teaspoon pepper
1 teaspoon garlic powder
½ teaspoon nutmeg
4 cups of spinach leaves per pack
1 large egg
2 cups grated mozzarella cheese
1/2 cup grated Parmesan
8 lasagna sheets
Directions:
Prepare the pumpkin. Preheat oven to 400 ° F. Peel the pumpkin, cut into cubes and place evenly on a baking sheet. Drizzle with 1 tablespoon olive oil, 1/2 teaspoon salt, and 1/2 teaspoon pepper. Bake until the pumpkin is tender, about 20 minutes.
Add spinach, 1 tablespoon olive oil, 1/2 teaspoon salt, and 1/2 teaspoon pepper to a large skillet. Cook over medium heat. Cook until wilted, then remove from heat and let cool slightly.
Add 1 cup ricotta, 1 1/2 cups mozzarella, 1/4 cups Parmesan cheese, egg, and garlic powder to the skillet. Stir.
Add cooked butternut squash, leftover ricotta, milk, 1 teaspoon salt, 1 teaspoon pepper, and nutmeg to a blender. Whisk until smooth, adding more milk to make it thin and thick.
Reduce oven temperature to 350 ° F. Spray an 8 x 8-inch baking dish with cooking spray. Starting with the sauce, place the ingredients in the dish until all ingredients have been used up. Top with the remaining cheese.
Bake, uncovered, until the edges begin to brown and the cheese has melted, about 20 minutes. Serve warm and enjoy!
Also Like
Comments for "Butternut Squash Lasagna Recipe"