Double-Baked Butternut Squash
by Editorial Staff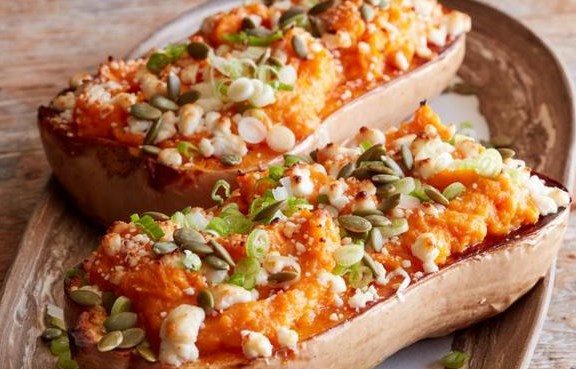 This easy to prepare yet healthy and highly effective pumpkin rind garnish will impress your family over a festive dinner. Scoop the baked pumpkin flesh out of the rind so as not to damage it, crush it with the baked sweet potato, cream, and butter-like mashed potatoes, and place back in the pumpkin rind bowls. Then the mashed potatoes are sprinkled with crumbled goat cheese and baked again to melt the cheese on the surface. Sprinkle the garnish with green onions and pumpkin seeds and place in the crusts on the table. Pumpkin puree with sweet potato goes well with meat and poultry dishes.
Cook: 1 hour 50 mins
Servings: 8
Ingredients
1 large butternut squash (1.3-1.8kg), cut in half, and seeded
700 gr. sweet potato, cut the tubers in half lengthwise
1 tbsp olive oil
1/3 Art. heavy cream
90 gr. unsalted butter, cut into small pieces
90 gr. crumbled goat cheese
1 green onion feather, thinly sliced
1/4 Art. peeled pumpkin seeds
Directions
Preheat oven to 220 ° C, place pumpkin and sweet potato on a baking sheet. Brush the pumpkin with half of the olive oil and mix the remaining oil with the sweet potato, then salt and pepper.
Turn the pumpkin and sweet potato pulp side down onto a baking sheet and pierce the pumpkin skin with a fork. Bake until the pumpkin is very soft and lightly browned and the sweet potato is completely cooked through, from 1 hour 10 minutes to 1 hour 30 minutes.
Switch the oven to grill.
Scoop the sweet potato pulp into a bowl (remove the skin). Scoop out the pumpkin pulp, leaving 1 cm layer on the crust, and add it to the sweet potato bowl along with heavy cream, butter, 2 teaspoon. salt and a little freshly ground black pepper.
Mash with a potato grinder until smooth. Place the pumpkin rinds on a baking sheet and spread the filling evenly in them.
Sprinkle with crumbled goat cheese, then grill until cheese is bubbling, 1-2 minutes. Sprinkle with green onions and pumpkin seeds before serving.
Also Like
Comments for "Double-Baked Butternut Squash"