Casserole Cool
by Editorial Staff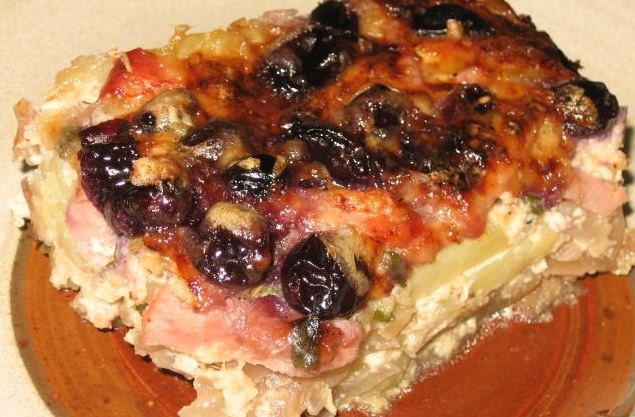 This casserole could be classified as a simple potato and onion casserole, if not for the many different additives that turned it into a delicious dish. Judge for yourself – potatoes with onions, stewed in wine, and on top – a ruddy crust of ham with cheese and grapes.
Ingredients
Potatoes – 600 g
Green onions – 3-4 pcs.
Boiled ham – 200 g
Grapes – 200-250 g
Large sweet onions (Yalta) – 2 pcs.
Fresh porcini mushrooms – 200 g (you can take champignons)
Vegetable oil – 2 tbsp
Sugar – 1 teaspoon
Dry wine – 200 ml (if you take green grapes, then the wine is white; for dark grapes – red)
For refueling:
Eggs – 3 pcs.
Vodka – 50 ml
Thick cream – 2 tbsp (you can take sour cream)
The juice of half a lemon
Hard cheese – 150 g
Rosemary – a pinch
Ground black pepper – a pinch
Ground white pepper – a pinch
Salt to taste
Directions
Wash and peel potatoes. Peel the onion. Peel the mushrooms and cut them into pieces. Wash the grapes and pick the berries from the branches. Peel and cut the green onions into rings. Grate cheese on a coarse grater.
Cut the potatoes into slices or halves. Boil for 5-7 minutes in salted boiling water. Drain in a colander and drain completely. Cut the onion into quarters. Cut the ham into strips. Fry the mushrooms in hot vegetable oil.
Add onion, sprinkle with sugar, pour over the wine, and simmer over low heat for 5 minutes. Throw on a sieve, collect the broth.
For the dressing, beat eggs lightly, add cream, vodka, spices, lemon juice, and half grated cheese. Mix everything well.
Mix potatoes with onions and mushrooms. Line a deep baking sheet with parchment. Layout the potatoes with onions and mushrooms. Spread the ham on top.

Then sprinkle with green onions, pour over the dressing, spread out the grapes, and sprinkle with the remaining cheese. We put it in an oven preheated to 200 degrees for 40-50 minutes. If the casserole is slightly browned, you can put it on the grill for 3-4 minutes.
The casserole is delicious and warm.
Bon Appetit!
Also Like
Comments for "Casserole Cool"