Casserole with Zucchini, Minced Chicken, Tomatoes and Cheese
by Editorial Staff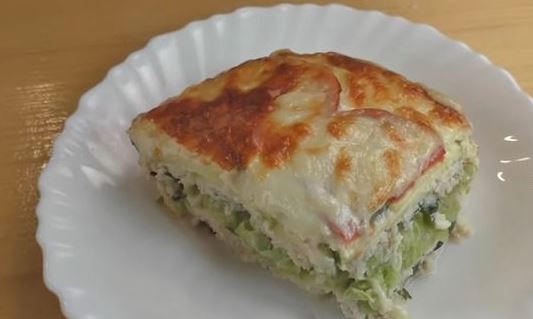 Today I will tell you how else to cook zucchini so that it is tasty and beautiful – we bake in the oven with minced chicken, tomatoes, and cheese! Everyone is in awe of this summer casserole, repeat to your health! Simple recipes for every day!
Ingredients
Zucchini – 2-3 pcs.
Minced chicken – 400 g
Bulb onions – 1 pc.
Dried garlic – 1 teaspoon
or fresh garlic – 2 cloves
Salt to taste
Ground black pepper – to taste
Tomatoes – 2 pcs.
Parsley to taste
To fill:
Eggs – 2 pcs.
Sour cream – 4 tbsp
Salt – 1 pinch (to taste)
Hard cheese – 100 g
To prepare the form:
Directions
Rub one zucchini (a little more than average) on a coarse grater, add (1/2 teaspoon) and leave for a few minutes. When the zucchini releases a lot of juice, squeeze well. Add the grated onion (on a coarse grater), garlic, salt, and pepper to the minced meat.

Chop the greens and also add to the minced meat. Mix well – the meat component of the dish is ready! Cut a remaining couple of zucchini into thin slices.
Put slices of zucchini on the bottom in the prepared form (grease with butter). Gently distribute half of the minced meat on top. Minced meat layer – 0.5 cm.
Put the grated zucchini on the minced meat – it will add airiness (lightness) to the dish. Distribute the second half of the minced meat to the zucchini.
Then – another row of zucchini circles. And on top, we lay out several circles of tomatoes, which will add both sourness and sweetness.

Preparing the filling: combine eggs, sour cream, and salt and beat.
Fill the zucchini with minced meat and tomatoes with an egg-sour cream mixture and send to the oven.
We bake in a preheated oven at 180 degrees for 30-35 minutes. Take out 5-7 minutes and sprinkle with cheese.

Casserole with zucchini, minced chicken, tomatoes and cheese is ready.
In the summer, very often the family asks to cook this recipe. I also really like it, so I do not refuse!
Also Like
Comments for "Casserole with Zucchini, Minced Chicken, Tomatoes and Cheese"