Cheesecake without Baking "Cow"
by Editorial Staff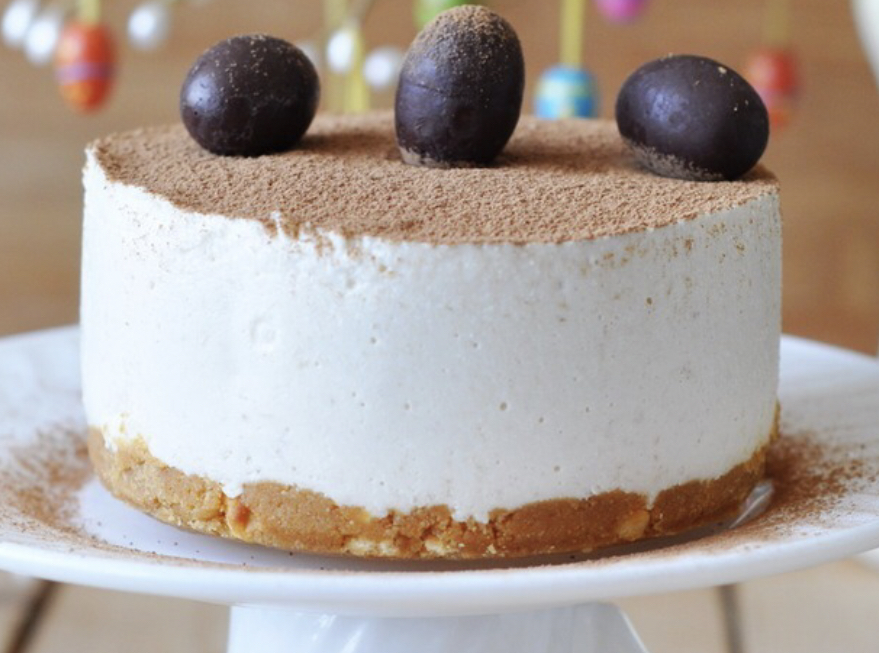 Curd desserts are in great demand for the holidays and especially for Easter. I offer you a delicate cheesecake without baking with the taste of "Cow" sweets familiar to everyone from childhood.
Ingredients
Cottage cheese (9%) – 400 g
Sour cream (15%) – 200 g
Milk – 200 ml
Sweets ("Lady", toffee, "School") – 200 g
Butter – 100 g
Cookies – 200 g
Gelatin (TM Dr. Oetker) – 30 g
Vanilla sugar (TM Dr. Oetker) – 1 package.
Sugar – 2 tbsp
Cocoa powder (TM Dr. Oetker) – 2 tbsp
Water (to dissolve gelatin) – 150 ml
Directions
For cooking, you can take any sweets, such as toffee, "Lady". I have candies on fructose "Blot", like "School".
Put the sweets in a stewpan with a thick bottom, pour milk, heat, stirring, until the sweets are completely dissolved. Do not leave the mass unattended, it may burn.
Set aside the finished mass to cool.
We take any cookies, like "Jubilee", I have "Bumuk" on fructose.
Grind the cookies with a blender or rolling pin.
We heat the butter in a water bath or microwave. Mix the cookies and butter.
We take a detachable form. The recipe is for a cheesecake in a mold with a diameter of 24 cm, I did half a portion, a mold dia of 12 cm.
We lay the form with foil, put a mass of cookies and butter in it, tamp it. We put it in the refrigerator for 30 minutes, I put it in the freezer.
We take not dry cottage cheese, preferably pasty, add sour cream, sugar (I didn't put it, and it's so sweet), put vanillin, I have vanilla sugar TM Dr. Oetker.
Grind well with a blender until smooth.
Add the cooled mass of sweets in milk to the curd. We mix.
Pour gelatin with 150 ml of water, I have Dr. Oetker TM. This gelatin is instant and does not need to be filled with water in advance. We heat the gelatin solution until completely dissolved, do not boil. Let it cool a little.
Pour the gelatin solution into the curd mass, mix thoroughly.
We quickly pour the curd mass into a mold, it immediately begins to set.
We put the cheesecake mold in the refrigerator to solidify completely for at least 3 hours.
We take the cheesecake out of the mold; for convenience, it is enough to slightly warm the sides with a hairdryer.
We decorate the finished cheesecake to taste and desire, I sprinkled it with cocoa powder from TM Dr. Oetker, decorated with chocolate eggs on top.
Enjoy your meal!
Also Like
Comments for "Cheesecake without Baking "Cow""