Chicken Breast Stuffed with Pork and Liver
by Editorial Staff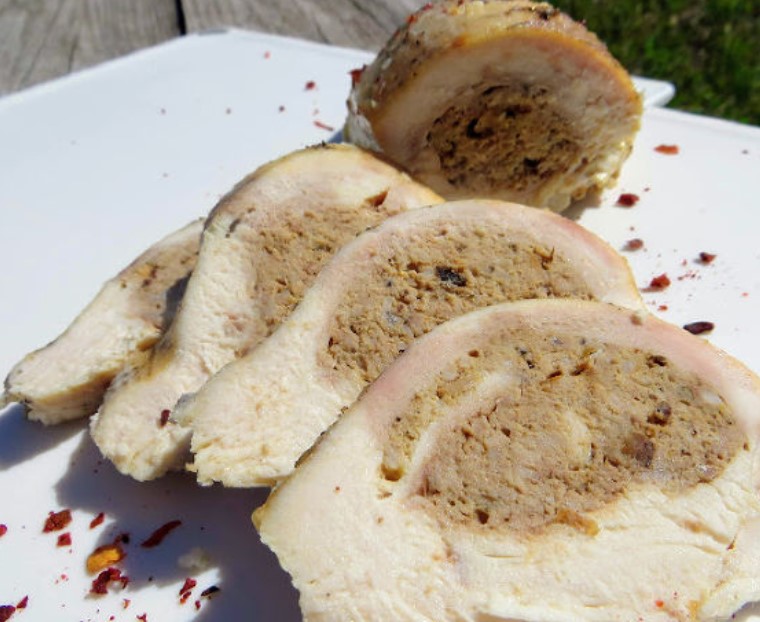 A wonderful recipe for chicken breast stuffed with pork and liver, which will be good both for a snack and for a festive table! Stuffed chicken breast stays juicy! And in combination with the filling, it turns out very tasty (tastier than sausage)! It is interesting and simple to prepare – repeat to your health!
Ingredients
Chicken breast fillet – 2-4 pcs.
Minced pork – 250 g
Chicken liver – 100 g
Garlic – 3 cloves
Dried paprika – 1 teaspoon
Ground coriander – 1/2 teaspoon
Salt to taste
Ground black pepper – to taste
Vegetable oil – 50 ml
Water – 50 ml
Directions
Let's prepare the products for the meatloaf and get started. By the way, you can take 4 fillets, since the minced meat filling is enough.

Salt and pepper the meat, leave for 10 minutes.
Let's start preparing the minced meat filling. We send chopped liver, minced meat, garlic (pass through a press) and all spices to the blender bowl. Twist into a homogeneous mass.
Cut the breast from the thick side with a knife, make a "pocket". Be careful not to cut the fillets.
We transfer the prepared minced meat into a pastry bag and stuff the chicken breast.
We connect the edges with a toothpick.
Pour some vegetable oil and water into a baking dish. We bake at a temperature of 200 degrees. Cover the form with foil for the first 20 minutes. Then we cook without foil, periodically pouring over the breasts with the released juice.
Let the finished stuffed chicken breast cool down – and you can taste it!

The chicken roll is cut very well, it looks delicious! The only thing, next time I will cook for a beautiful crust, first fry in a pan.
Due to the minced pork, it turned out juicy. Spices and liver did their job – it turned out very tasty! For a snack, for a sandwich or as a cut for a festive table – an excellent recipe, I recommend it!
Bon appetit!
Also Like
Comments for "Chicken Breast Stuffed with Pork and Liver"