Chicken Cutlets in Soy-Honey Sauce
by Editorial Staff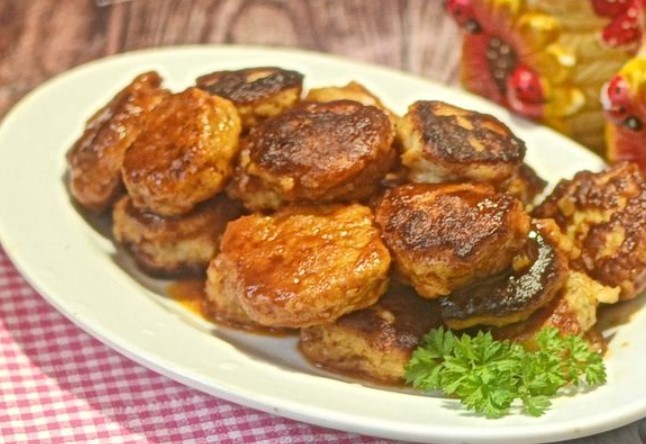 Experiment with a combination of minced chicken cutlets, soy sauce, honey, and ketchup. A simple but flavorful sauce impregnates tender chicken cutlets with a spicy-sweet taste. The cutlets are juicy and tasty.
Cook: 1 hour
Serving: 5
Ingredients
For cutlets:
Minced chicken – 800 g
Onions (small) – 50 g (1 pc.)
Egg – 1 pc.
Milk – 70 ml
Bread crumbs – 30 g
Salt – 1 teaspoon (to taste)
Ground black pepper – 0.5 teaspoon (to taste)
Sunflower oil (for frying) – 100 ml (about 7 tablespoons)
*
For the sauce:
Soy sauce – 3 tbsp
Honey – 2 tbsp
Ketchup (or tomato paste / tomato sauce) – 60 g
Garlic – 2 cloves
Butter (for frying) – 20 g
Directions
Let's prepare the necessary ingredients. I used ready-made minced chicken, but you can make a minced chicken breast.
Instead of ketchup, you can use tomato paste or sauce.
Soak the crackers in milk. If milk is not enough, then add more.
Peel the onion, rinse and cut into medium pieces.
We pass the minced meat again through a meat grinder with the addition of bread crumbs and onions. Onions can also be chopped with a blender, and then added to the finished chicken mince with bread crumbs.
Add an egg, salt and ground pepper to the minced meat.
Mix the minced meat and put it in the refrigerator for half an hour.
Then we will form small patties (the size of a large walnut).
Heat the sunflower oil in a frying pan and place the patties.

Fry on both sides over medium heat until golden brown.
Place the meatballs out of the pan.
Chop the garlic finely.
In the pan in which the meatballs were fried, melt the butter and fry the garlic for a couple of minutes.
Add honey, ketchup, soy sauce.

Simmer the sauce for 5 minutes. If the sauce is too thick, you can add a little boiled water.
Put the cutlets in the sauce, mix and simmer for 10-15 minutes over low heat.
Chicken cutlets in the soy-honey sauce are ready. These cutlets are good both cold and hot. Hot, of course, taste better.)
Bon appetit!
Also Like
Comments for "Chicken Cutlets in Soy-Honey Sauce"