Marinated Steak with Soy Sauce, Garlic and Honey
by Editorial Staff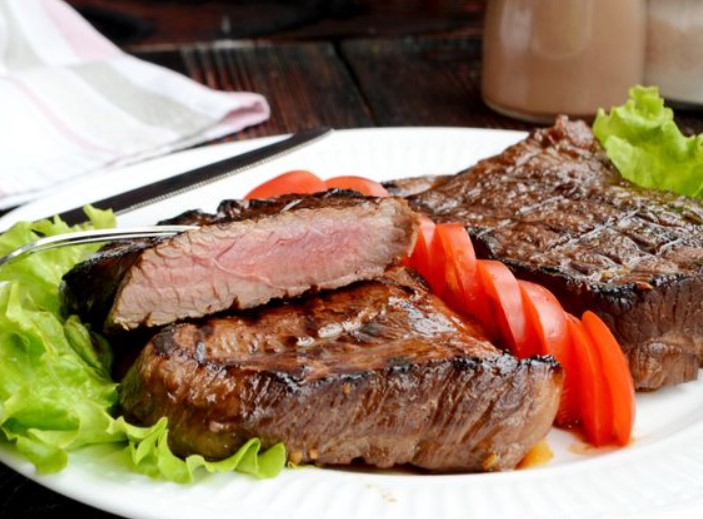 A juicy steak is quite simple to prepare if you marinate it for several hours in a fragrant mixture of soy sauce, garlic, honey, wine vinegar and olive oil. The steak turns out to be very juicy, tender and aromatic, and the degree of roasting can be adjusted independently. Try it!
Cook: 8 hour 20 mins
Servings: 2
Ingredients
Beef (pulp) – 500 g
Soy sauce – 60 ml
Wine vinegar – 50 ml
Olive oil – 60 ml + for greasing the pan
Honey – 40 g
Garlic – 2 cloves
Coarse salt – 1 teaspoon
Ground black pepper – 0.5 teaspoon


For filing (optional):

Leaf salad – 2 pcs.
Tomato – 1 pc.
Directions
Prepare the required ingredients.
Take any piece of beef suitable for steak – lean cut, marbled beef. The meat should not be frozen, otherwise the steak will not be juicy.
In the cooking process, you will need cling film.

Cut the meat with a knife several times (the depth of the cuts is about 2-3 mm) so that the marinade soaks the fibers better.
Finely chop the peeled garlic.
Prepare the marinade. To do this, combine wine vinegar, soy sauce, honey and olive oil in a deep bowl.
Add garlic to the marinade. Place the portions of beef in the marinade.
Cover the bowl with cling film and refrigerate for 2-8 hours.
After the time has passed, place the meat on a paper towel to lightly dry the surface of the meat.
Free the garlic chunks from the beef. If the garlic is not removed, it will immediately burn in the pan. Season the meat with salt and pepper on both sides for a delicious crust.
Heat the grill pan to high, then reduce the heat to medium. Brush a skillet with olive oil. Place the meat in a skillet and cook on one side for 3 minutes.
Turn the meat over to the other side and cook for another 3 minutes. In this case, you get an average degree of roasting meat – Medium. If you want bloody meat, shorten the frying time.

Marinated steak with soy sauce, garlic and honey is ready. Rinse and dry the tomato and lettuce. Cut the tomato into thin slices.
Place the steaks on a plate of lettuce and garnish with chopped tomato.
Before cutting, the meat must "rest" for 7-8 minutes! If you cut the steak right away, all the juice will drain out and the meat will be drier. And during the "rest", the juice will be distributed throughout the piece of meat
The cut shows how juicy the meat is.
Delicious meat in minutes is a dream. Delicious, try it!
Bon appetit!
Also Like
Comments for "Marinated Steak with Soy Sauce, Garlic and Honey"