Chicken Feed
by Editorial Staff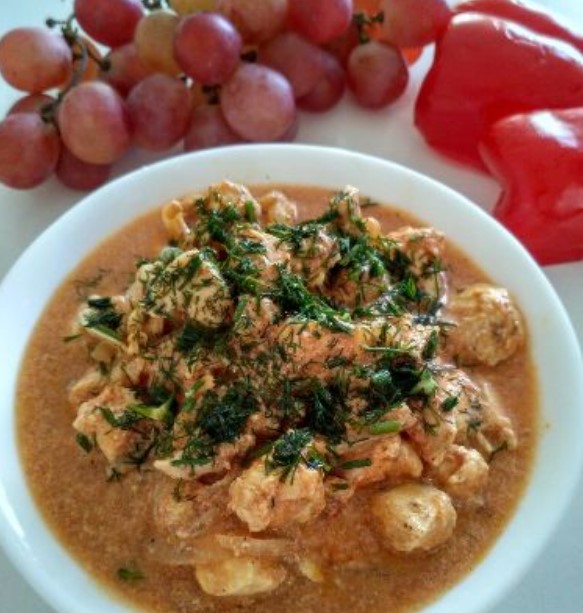 Chicken feed is a traditional Indian dish, which is a stew of chicken or vegetables in a special way. An important aspect of Indian food is the complex composition of spices and cream, which gives the meat a special, delicate creamy taste.
Cook: 40 mins
Servings: 3
Ingredients
Chicken breast – 500 g
Onions – 1 pc.
Ginger (spices) – 1/2 teaspoon
Garlic – 2 cloves
Zira (ground) – 1 teaspoon.
Coriander (ground) – to taste
Cinnamon – 1/2 teaspoon
Cloves – 1 teaspoon
Turmeric – 1 teaspoon
Coriander (ground) – 1-2 teaspoon
Black pepper (ground) – to taste
Cream – 250 ml
Tomato paste – 2 tbsp
Salt to taste
Olive oil – 2-3 tablespoon.
Directions
First, peel the onion and garlic and chop.
Pour olive oil into the pan, add onion, garlic, and spices. Fry the onions until soft for 3-4 minutes.
Cut the chicken fillet into small pieces. Fry in a pan until the meat is white.
Add tomato paste and cream.

Mix all the ingredients and simmer the Indian food for about 10-15 minutes.
Sprinkle the cooked Indian chicken feed with fresh herbs, best served with rice.
Bon Appetit!
Also Like
Comments for "Chicken Feed"