Chili Hot Dogs
by Editorial Staff
Chili Dogs are popular in states with many Mexicans who are very fond of spicy food. The cheeky chili hot dog has a combination of flavors. A splash of pleasure is guaranteed to you!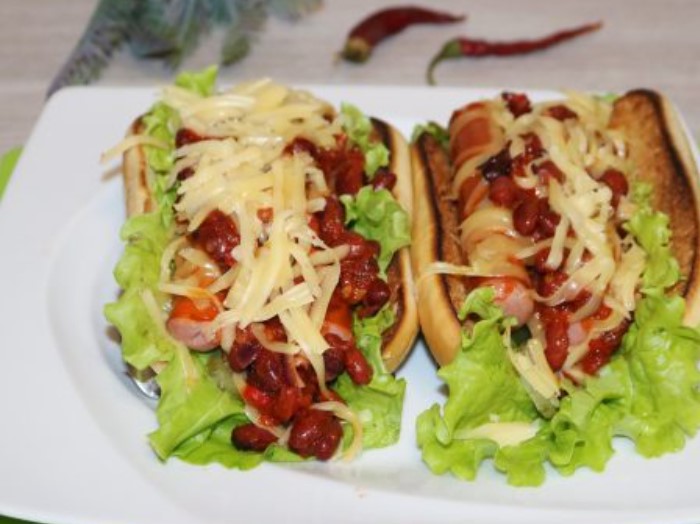 Cook: 30 mins
Servings: 3
Ingredients
Hot Dog Bun – 3 Pieces
Grilled sausages – 6 pieces
Beans in tomato sauce – 1 Piece (bank)
Pickled cucumber – 2 pieces
Red onion – 1 Piece
Tomato – 1 Piece
Chili pepper – 1 Piece
Lettuce Leaves – 1 Bunch
Hard cheese – 100 Grams
Tomato Paste – 1 Teaspoon
Directions
Prepare your ingredients.Cut the tomato, onion and chili into cubes.

Fry the onions in a little oil in a preheated frying pan.
Add tomatoes and chili to the onion. Fry everything together.
Then add the beans.
Add a spoonful of tomato paste, add salt and sugar to taste. Simmer for 10 minutes.
Cut the pickled cucumber into rings.
Cut the hot dog bun in half, just short of the end. Fry in a preheated skillet.
Place on a plate.
Grate the cheese on a coarse grater.
Fry the sausages in a preheated pan.
Place lettuce leaves on top of the fried bun.
Top with chopped pickles.

Place sausages two at a time.
Sprinkle half of the cheese on the sausages.
Then spread the beans.
Sprinkle with the remaining cheese.
Chili hot dog is ready.
The cheeky chili-flavored hot dog will appeal to spicy lovers!
Bon appetit!
Also Like
Comments for "Chili Hot Dogs"