Chinese Fried Rice (with and without Chicken)
by Editorial Staff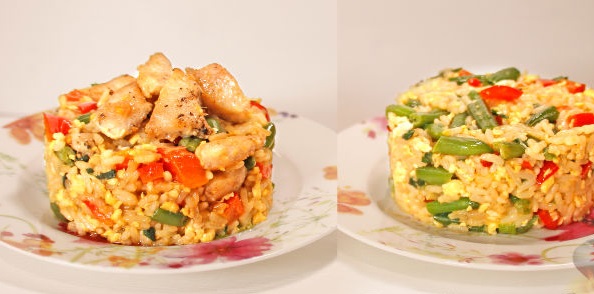 A popular Chinese-style recipe: fried rice with egg, bell peppers, green onions, green beans, ginger, and soy sauce. Can be performed with or without chicken.
Ingredients
Rice – 150 g
Chicken fillet – 1 pc. (optional)
Green beans – 200 g
Small Bulgarian pepper – 1 pc.
Green onion – 3-4 feathers (or to taste)
Ginger root – 1 slice (to taste)
Eggs – 2 pcs.
Soy sauce – to taste
Sugar – 1 teaspoon
Ground black pepper – to taste (optional)
Vegetable oil – for frying
Directions
Boil 150 grams of rice in water without salt in the proportion: 1 part rice to 2 parts water. (Cook without salt, as the dish uses soy sauce.)
Cut small bell pepper into cubes.
Chop a few green onion feathers. Rub a small piece of ginger on a fine grater. The fibers left in your hands do not need to be put in the dish.
Break 2 eggs into a bowl. Heat vegetable oil in a frying pan, pour out the eggs, and fry them until tender, stirring vigorously.
Add ginger and green onions. Stir and fry for a minute.
Add boiled rice and bell pepper to the pan.
Add 200 grams of green beans. Stir and fry for 3 minutes.
Add soy sauce: just enough to salt the whole dish.

Add a teaspoon of sugar, mix well, and heat for another 3 minutes. The garnish is ready.
Enjoy your meal
Also Like
Comments for "Chinese Fried Rice (with and without Chicken)"